WHERE

OTHERS

SEE

WASTE

WE

SEE

POTENTIAL

Ekopak is first and leading licensed packaging recovery organisation in Bosnia and Herzegovina

Ekopak is a pioneer in Bosnia and Herzegovina in the process of establishment and development of the packaging and packaging waste management system

Ekopak is founded by leading international, regional and local companies

Operations of Ekopak are based on best EU practices, but also on highest business standards which are in accordance with the standards of the shareholders

Ekopak takes responsibility for the fulfillment of legal obligations for producers, importers, distributors and retailers at the lowest sustainable cost and for the benefit of the entire community

Principle of Ekopak is equal treatment for all - the shareholders of Ekopak have neither special status

Employees of Ekopak perform their tasks fully professionally, responsibly, transparently and according to highest ethical standards which are in compliance with all legal requirements

Ekopak is 32. member of the PROEUROPE - European umbrella organisation for the packaging and packaging waste recovery systems, based in Brussels

Ekopak is authorised to assign an internationally trademark "Green dot" to companies that behave responsible towards their packaging waste on the market of Bosnia and Herzegovina

Any usage of the symbol on the market of Bosnia and Herzegovina without exclusive permission from Ekopak is violation of the current legislation

"Green Dot" on the packaging means that company who uses it fulfills its legal obligations through Ekopak, finances the establishment of system of separate collection and recycling of packaging waste in Bosnia and Herzegovina
News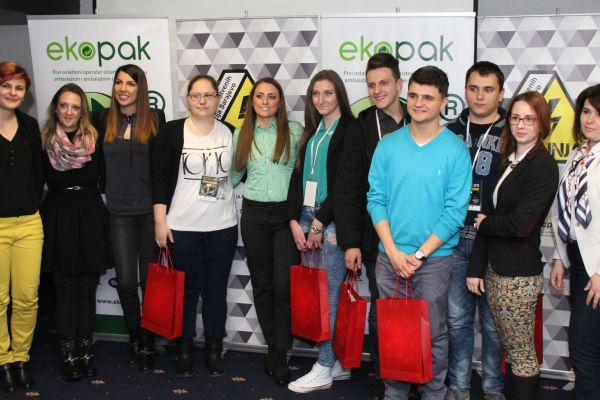 "Recycling - The Need and Opportunity" - finished Third National Competition of high school students in entrepreneurship
The Third National Competition of high school students in entrepreneurship organized by the incubator of social innovation "Munja" was held in hotel "Evropa" in Sarajevo on 7th and 8th April. Competition was attended by 100 students from 48 schools and from 31 city in B&H. This years business task in partnership with EKOPAK was generation of creative business idea in the field of recycling.
Recycling is the separation of useful materials from waste and its reuse. That includes collection, separation, processing and manufacture of new products from used items or materials. Every citizen of B&H daily produces 1 kg of waste. That is 365 kg of waste per person for one year. Only 5% of waste is recycled in B&H - other is deposited. In addition to environmental protection recycling can be a business opportunity.
Through the "Business Challenge" students develop an awareness of business and entrepreneurship, as well as problem solving skills, teamwork, analytical thinking, presentation skills, and enhance self-confidence, all that will be of great importance when they find themselves in the labor market. All of these skills are particularly important when we know that 63% of young people are unemployed or that every third person on the Employment bureau is under 30 years old.
The winning team was team "Neretva" with members Hamza Alić and Ajla Muratović from Sarajevo, Jelena Railić from Prijedor, Nudžejm Pašić from Busovača and Ermin Papračanin from Goražde. Second runner-up was the team "Maglić" with members Elna Biber and Nadina Tanović from Sarajevo, Goran Ivetić from Banja Luka, Muhiba Tešnjak from Gračanica and Amar Handžo from Mostar. Third place took team "Sana" with members Eldar Berbić from Sarajevo, Amina Hasečić from Ilijaš, Dragana Mirković from Rogatica, Tarik Veispahić from Kakanj and Dina Osmanović from Kalesija.
The members of judging team were: Violeta Čibukčić (American Chamber of Commerce), Samra Jažić (Ekopak), Sandra Stanic (M:TEL), Martina Rotim (TELEMACH) and Majda Mujanović (OXFAM/GEM).
EKOPAK was the general supporter of Competition, TELEMACH was the silver partner with the cooperation and support of partners: SHL Foundation, American Chamber of Commerce (AmCham), M:TEL, Employment Service of Sarajevo Canton, Balkan Trust for Democracy, USAID Gold Project, Junior Achievement Serbia, Mistral Solutions, Coca Cola and Spanish Market (Quickie & Palitos), and IT partner BNC.
At the end of April all three teams will represent Bosnia and Herzegovina at the regional competition in Montenegro where they will compete in the field of entrepreneurship together with high school students from Croatia, Serbia, Montenegro and Bosnia and Herzegovina.