WHERE

OTHERS

SEE

WASTE

WE

SEE

POTENTIAL

Ekopak is first and leading licensed packaging recovery organisation in Bosnia and Herzegovina

Ekopak is a pioneer in Bosnia and Herzegovina in the process of establishment and development of the packaging and packaging waste management system

Ekopak is founded by leading international, regional and local companies

Operations of Ekopak are based on best EU practices, but also on highest business standards which are in accordance with the standards of the shareholders

Ekopak takes responsibility for the fulfillment of legal obligations for producers, importers, distributors and retailers at the lowest sustainable cost and for the benefit of the entire community

Principle of Ekopak is equal treatment for all - the shareholders of Ekopak have neither special status

Employees of Ekopak perform their tasks fully professionally, responsibly, transparently and according to highest ethical standards which are in compliance with all legal requirements

Ekopak is 32. member of the PROEUROPE - European umbrella organisation for the packaging and packaging waste recovery systems, based in Brussels
News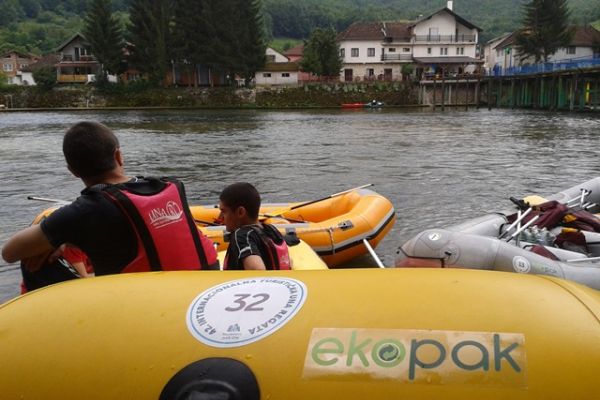 Ekopak Supports This Year's Una Regatta
42nd International Una regatta has an eco – friendly tone. This four-day event began with a formal opening on Tuesday, July 29th 2014 and has more then 400 participants from BiH, Croatia and Serbia.
Una regatta is an international touristic, sports, cultural event and central event of touristic promotion of Una river's potential and Una National Park.
Thanks to the support of Ekopak this year, for the first time, all regatta participants will be able to selectively dispose their packaging waste. In cooperation with public utility companies "Komrad" from Bihać and "July 10th" from Bosanska Krupa, Ekopak provided waste bins on four locations, for separate disposal of packaging waste (paper, glass and plastic). All of packaging waste collected during regatta will be transported and delivered for further processing and recycling. At that way we can avoid further clattering of landfill dumps and provide a new value for packaging waste.
Ekopak supports all projects with a goal to highlight the importance of separate disposal and recycling of packaging waste and protection of natural resources. Therefore we were pleased to support the realization of the 42nd International Una regatta.