WHERE

OTHERS

SEE

WASTE

WE

SEE

POTENTIAL

Ekopak is first and leading licensed packaging recovery organisation in Bosnia and Herzegovina

Ekopak is a pioneer in Bosnia and Herzegovina in the process of establishment and development of the packaging and packaging waste management system

Ekopak is founded by leading international, regional and local companies

Operations of Ekopak are based on best EU practices, but also on highest business standards which are in accordance with the standards of the shareholders

Ekopak takes responsibility for the fulfillment of legal obligations for producers, importers, distributors and retailers at the lowest sustainable cost and for the benefit of the entire community

Principle of Ekopak is equal treatment for all - the shareholders of Ekopak have neither special status

Employees of Ekopak perform their tasks fully professionally, responsibly, transparently and according to highest ethical standards which are in compliance with all legal requirements

Ekopak is 32. member of the PROEUROPE - European umbrella organisation for the packaging and packaging waste recovery systems, based in Brussels

Ekopak is authorised to assign an internationally trademark "Green dot" to companies that behave responsible towards their packaging waste on the market of Bosnia and Herzegovina

Any usage of the symbol on the market of Bosnia and Herzegovina without exclusive permission from Ekopak is violation of the current legislation

"Green Dot" on the packaging means that company who uses it fulfills its legal obligations through Ekopak, finances the establishment of system of separate collection and recycling of packaging waste in Bosnia and Herzegovina
Eco tips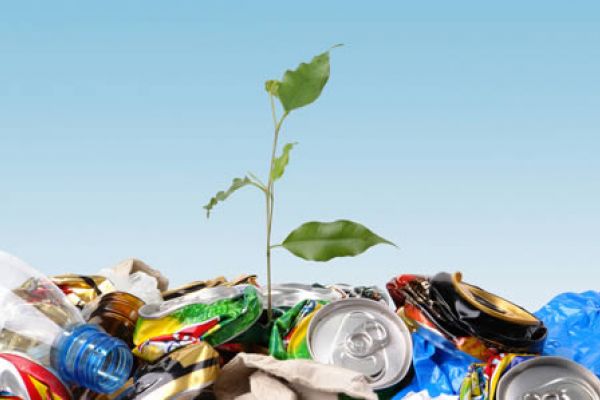 Recycling
Issue of recycling is among the most important questions of today. The quality of human life today and in the future in much depends on the way we manage our waste as a society as well as individuals.
It is interesting that at least 60% of rubbish that ends up in garbage, and thus in landfills, could be reused either by composting or by recycling. Recycling is a key to preserving energy and protecting our environment. When talking about packaging waste, precisely:
1 recycled tin can would save enough energy to power a television for 3 hours
1 recycled glass bottle would save energy to power a computer for 3 hours
1 recycled PET bottle would save energy to power a 60 watt light bulb for 3 hours
70% less energy is required to recycle paper compared with making it from raw materials
Recycling is the process of collecting and processing materials that would otherwise be thrown away as trash and turning them into new products. Benefits of recycling are enormous. It reduces the amount of waste sent to landfills and thus conserves natural resources (timber, water, and healthy soil). It also prevents pollution and reduces natural exploiting by reducing the need to collect new raw materials, it saves energy as well as reduces greenhouse gas emissions that contribute to global climate change. Helps create new well-paying jobs in the recycling and manufacturing industries in order to improve life standard of people in every sense.