Projects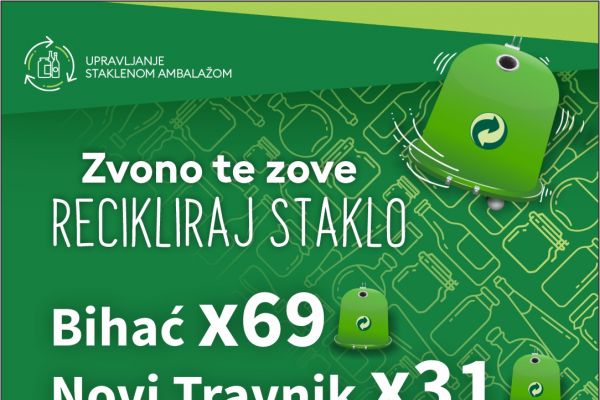 Management of glass packaging in the Western Balkans - Regional glass packaging management project expanded, eight new municipalities will receive glass recycling containers
Responsible glass disposal available to 1.5 million citizens of BiH, Serbia and Northern Macedonia. After 1,000 glass packaging recycling containers began arriving in the region in December, the Western Balkans Glass Packaging Management project was expanded to eight more municipalities in Bosnia and Herzegovina, Serbia and Northern Macedonia.
Apart from Sombor, Niš, Bihać, Novi Travnik, Štip and Ilinden, the containers will be distributed in Kragujevac, Varvarin, Konjic, Ilidža, Skopje, Bitola, Gevgelija and Tetovo. The complete equipment will be installed by the end of March, in the city cores, restaurants as well as in the suburbs.
One of the main goals of the project, launched by the German Development Cooperation - GIZ, in cooperation with packaging waste operators - Ekopak, Sekopak and Pakomak, is to increase the amount of collected glass packaging in these municipalities by 20% and achieve profitability of glass recycling.
Thus, by the end of March, Ekopak, with the help of project partners and local communities, will set up 69 containers for glass packaging in Bihać, 31 in Novi Travnik and 40 in Konjic and 50 in Ilidža.
"With the aim of increasing the rate of glass packaging recycling by 20% in BiH, we joined the original municipalities of two more municipalities Konjic and Ilidža, and provided them with the required number of containers for the collection of glass packaging waste. Monitoring of the collection will include the city center, rural settlements and catering facilities, and the project will be accompanied by an educational campaign intended for citizens and institutions. Upon completion of the project, a Guide will be developed that will contain all data on the achieved results, which would serve for the development of systems in municipalities where it is not implemented and to establish an efficient and economically viable glass packaging management system, " said Managing Director of Ekopak, Amela Hrbat.
Only 44% of glass packaging is recycled in Serbia, 30% in Northern Macedonia and 12% in Bosnia and Herzegovina, which is insufficient to establish a cost-effective recycling system in the Western Balkans. Since there are no recycling plants in the region, glass packaging must be exported and this is an additional cost for packaging waste operators. Consequence of such a system is that most used glass packaging ends up in landfills or illegal dumps, where glass needs more of 5,000 years to disintegrate.
The project will prepare a Guide for local governments to establish an efficient and cost-effective glass packaging management system and the project also aims to contribute to improving the implementation of laws and regulations in the field of environmental protection which is also a direct contribution to further EU accession and harmonization of rules and regulations.
The project is implemented in BiH, Serbia and Northern Macedonia within the development cooperation program with the private sector - develoPPP.de funded by the German Federal Ministry for Economic Cooperation and Development, and implemented by NALED, the Association for Economic Development REDAH and the Association of Local Governments (ZELS) ) from Northern Macedonia.