WHERE

OTHERS

SEE

WASTE

WE

SEE

POTENTIAL

Ekopak is first and leading licensed packaging recovery organisation in Bosnia and Herzegovina

Ekopak is a pioneer in Bosnia and Herzegovina in the process of establishment and development of the packaging and packaging waste management system

Ekopak is founded by leading international, regional and local companies

Operations of Ekopak are based on best EU practices, but also on highest business standards which are in accordance with the standards of the shareholders

Ekopak takes responsibility for the fulfillment of legal obligations for producers, importers, distributors and retailers at the lowest sustainable cost and for the benefit of the entire community

Principle of Ekopak is equal treatment for all - the shareholders of Ekopak have neither special status

Employees of Ekopak perform their tasks fully professionally, responsibly, transparently and according to highest ethical standards which are in compliance with all legal requirements

Ekopak is 32. member of the PROEUROPE - European umbrella organisation for the packaging and packaging waste recovery systems, based in Brussels

Ekopak is authorised to assign an internationally trademark "Green dot" to companies that behave responsible towards their packaging waste on the market of Bosnia and Herzegovina

Any usage of the symbol on the market of Bosnia and Herzegovina without exclusive permission from Ekopak is violation of the current legislation

"Green Dot" on the packaging means that company who uses it fulfills its legal obligations through Ekopak, finances the establishment of system of separate collection and recycling of packaging waste in Bosnia and Herzegovina
Projects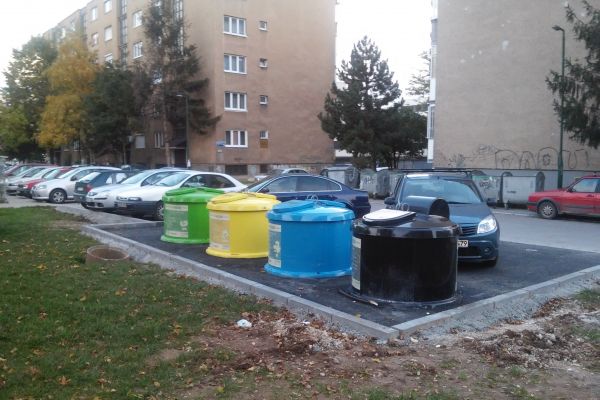 Underground eco island for packaging waste disposal in the Cengic Vila
Sarajevo, 21.10.2016. - After setting the first underground eco-island in Sarajevo neighborhood Hrasno, the project "Development of primary selection of packaging waste from municipal solid waste in Canton Sarajevo" is realizing the anticipated pace. Underground eco-island is built and placed in the Cengic Vila.
Citizens are thus allowed to separately dispose packaging waste by type of packaging: paper in the blue container, plastic in yellow, glass in the green container, while the waste that is unusable in the recycling process designed black container. Packaging waste which is separately suspended in the above locations will be collected by a special-purpose vehicle for emptying underground containers, and will be prepared for transport to recycling.
The project is jointly implemented by the Ministry of municipal economy and infrastructure of the Sarajevo Canton, PUC "Rad" Sarajevo and "Ekopak" - the first authorized system operator of packaging and packaging waste, and plans to set up three more underground eco-island in the Sarajevo Canton. The project represents the beginning of a new approach to waste management modeled on successful systems that are being developed in Europe in the past 20 years.