WHERE

OTHERS

SEE

WASTE

WE

SEE

POTENTIAL

Ekopak is first and leading licensed packaging recovery organisation in Bosnia and Herzegovina

Ekopak is a pioneer in Bosnia and Herzegovina in the process of establishment and development of the packaging and packaging waste management system

Ekopak is founded by leading international, regional and local companies

Operations of Ekopak are based on best EU practices, but also on highest business standards which are in accordance with the standards of the shareholders

Ekopak takes responsibility for the fulfillment of legal obligations for producers, importers, distributors and retailers at the lowest sustainable cost and for the benefit of the entire community

Principle of Ekopak is equal treatment for all - the shareholders of Ekopak have neither special status

Employees of Ekopak perform their tasks fully professionally, responsibly, transparently and according to highest ethical standards which are in compliance with all legal requirements

Ekopak is 32. member of the PROEUROPE - European umbrella organisation for the packaging and packaging waste recovery systems, based in Brussels

Ekopak is authorised to assign an internationally trademark "Green dot" to companies that behave responsible towards their packaging waste on the market of Bosnia and Herzegovina

Any usage of the symbol on the market of Bosnia and Herzegovina without exclusive permission from Ekopak is violation of the current legislation

"Green Dot" on the packaging means that company who uses it fulfills its legal obligations through Ekopak, finances the establishment of system of separate collection and recycling of packaging waste in Bosnia and Herzegovina
News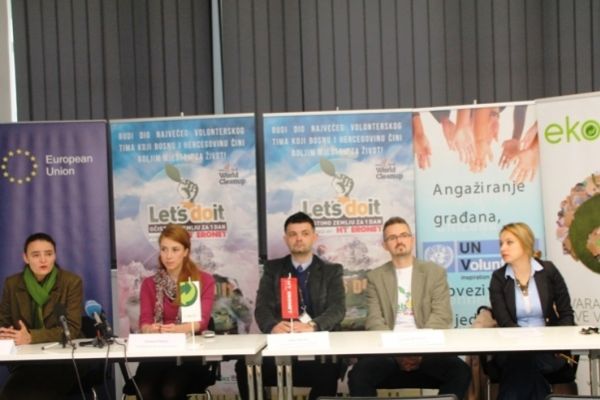 This year's cleanup action "Let's Do It – Let's Clean the Planet in a Day" – for the first time packaging waste will be collected and handed over for recycling
Cleanup action "Let's Do It – Let's Clean the Planet in a Day" is the largest volunteering action in the history of BiH and it is primarily dedicated to cleaning up the illegal landfills in one day as well as cleaning of the green areas and other natural values and protected areas. For the first time, the action will cover all municipalities of the Federation of BiH and for the first time, the waste will be collected separately and Ekopak will arrange that the collected packaging waste, instead of on landfills, ends up recycled.
It is expected that the action will engage more than 50.000 citizens who will collect around 10.000 tons of waste. The main objective of the action is raising awareness about the importance of environmental protection, proper disposal and recycling of the packaging waste. For the first time, thanks to the support of Ekopak, within the "Let's Do It – Let's Clean the Planet in a Day" action, separate packaging waste collecting is facilitated and it is going to be handed out for recycling and recovery which will give it new value. This way, the collected packaging waste, instead on landfills, is going to be recycled. The main message is that the regulated landfills are also a part of our environment and that they are unnecessarily loaded with materials that can be recycled or recovered in another way.
The central idea is to emphasize that the long-term solution in environmental preservation is responsible relation towards waste and its proper disposal on a daily basis. Ekopak successfully works on raising awareness of the citizens of the FBiH for almost three years through different activities: investing in public utility infrastructure, implementing educational projects with the youngest population i.e. establishing European system of packaging and packaging waste management.
This year's cleanup action "Let's Do It – Let's Clean the Planet in a Day" will be held on April 26th and 27th 2014 starting at 9:00 AM in whole Bosnia and Herzegovina.