WHERE

OTHERS

SEE

WASTE

WE

SEE

POTENTIAL

Ekopak is first and leading licensed packaging recovery organisation in Bosnia and Herzegovina

Ekopak is a pioneer in Bosnia and Herzegovina in the process of establishment and development of the packaging and packaging waste management system

Ekopak is founded by leading international, regional and local companies

Operations of Ekopak are based on best EU practices, but also on highest business standards which are in accordance with the standards of the shareholders

Ekopak takes responsibility for the fulfillment of legal obligations for producers, importers, distributors and retailers at the lowest sustainable cost and for the benefit of the entire community

Principle of Ekopak is equal treatment for all - the shareholders of Ekopak have neither special status

Employees of Ekopak perform their tasks fully professionally, responsibly, transparently and according to highest ethical standards which are in compliance with all legal requirements

Ekopak is 32. member of the PROEUROPE - European umbrella organisation for the packaging and packaging waste recovery systems, based in Brussels

Ekopak is authorised to assign an internationally trademark "Green dot" to companies that behave responsible towards their packaging waste on the market of Bosnia and Herzegovina

Any usage of the symbol on the market of Bosnia and Herzegovina without exclusive permission from Ekopak is violation of the current legislation

"Green Dot" on the packaging means that company who uses it fulfills its legal obligations through Ekopak, finances the establishment of system of separate collection and recycling of packaging waste in Bosnia and Herzegovina
News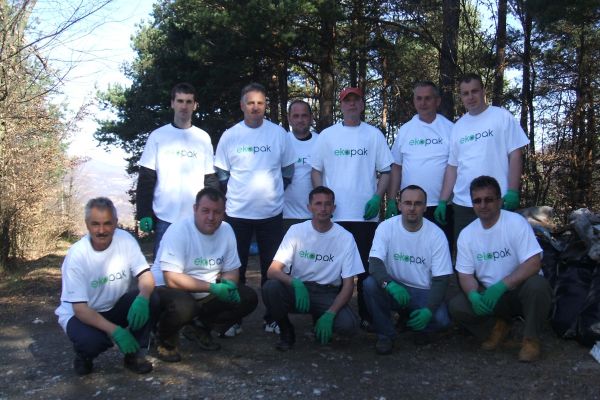 Action of remediation of illegal landfills in the Kladanj Municipality
Public Utility Service Company "Šume TK" and Šumsko gazdinstvo "Konjuh" Kladanj have, supported by Ekopak, marked the World Forest Day by the action of remediation of illegal landfills in the Kladanj Municipality.
The action has been successfully realized on four locations:
Transit Karaula-Kladanj
Park in front of the Public Utility Company "Šume TK"
The big bridge close to Brateljevica
Locations Hrastić and Barbus in Stupari
Ekopak, as a friend of the action, has provided bags for packaging waste collecting, sanitary gloves and T-shirts for all the participants.
With the promotional activities and by supporting cleanup actions, Ekopak wants to draw attention of the irresponsible individuals that the environment in which they throw their waste is also theirs. Responsible attitude towards waste needs to become a part of the culture of living of every citizen of our country and then, these actions won't be necessary any more since the waste will be disposed on the right place and notable amount will be directed to the processes of recycling and recovery.
All the available trucks and working machines of the Public Utility Service "Komunalac" were used and around 80 employees of the company took an active part in the action.