WHERE

OTHERS

SEE

WASTE

WE

SEE

POTENTIAL

Ekopak is first and leading licensed packaging recovery organisation in Bosnia and Herzegovina

Ekopak is a pioneer in Bosnia and Herzegovina in the process of establishment and development of the packaging and packaging waste management system

Ekopak is founded by leading international, regional and local companies

Operations of Ekopak are based on best EU practices, but also on highest business standards which are in accordance with the standards of the shareholders

Ekopak takes responsibility for the fulfillment of legal obligations for producers, importers, distributors and retailers at the lowest sustainable cost and for the benefit of the entire community

Principle of Ekopak is equal treatment for all - the shareholders of Ekopak have neither special status

Employees of Ekopak perform their tasks fully professionally, responsibly, transparently and according to highest ethical standards which are in compliance with all legal requirements

Ekopak is 32. member of the PROEUROPE - European umbrella organisation for the packaging and packaging waste recovery systems, based in Brussels

Ekopak is authorised to assign an internationally trademark "Green dot" to companies that behave responsible towards their packaging waste on the market of Bosnia and Herzegovina

Any usage of the symbol on the market of Bosnia and Herzegovina without exclusive permission from Ekopak is violation of the current legislation

"Green Dot" on the packaging means that company who uses it fulfills its legal obligations through Ekopak, finances the establishment of system of separate collection and recycling of packaging waste in Bosnia and Herzegovina
News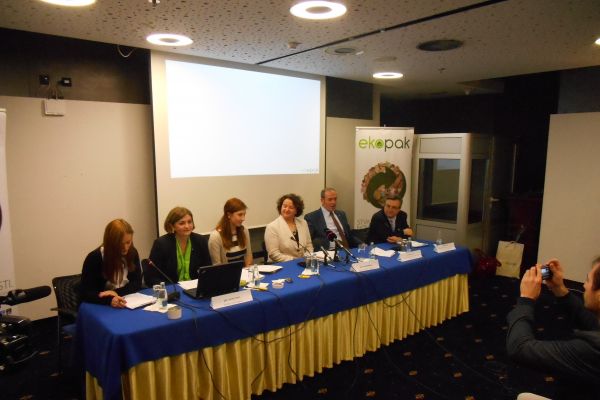 Ekopak has Officially become the 32nd Member of the PRO EUROPE, umbrella organisation of national producer responsibility systems
Ekopak today officially became the 32nd member of the umbrella organisation for European packaging and packaging waste recovery and recycling schemes, PRO EUROPE. The contract-signing ceremony between Ursula Denison, Managing Director at PRO EUROPE and Amela Hrbat, Managing Director at EKOPAK was held in Sarajevo.
"For EKOPAK, joining the PRO EUROPE family is a big and exciting step, and we look forward to working in collaboration with our "Green Dot" partner organisations, to use their expertise in order to reach our objectives in setting up and optimizing an effective system for packaging recovery in line with the national goals of the Ministry for the environment of the Federation of Bosnia and Herzegovina" said Amela Hrbat, Managing Director at EKOPAK. "Being able to promote and license the 'Green Dot' as a financing symbol for our packaging recovery organization will help us to increase the effectiveness of our system, and connect with consumers in the effort of separate collection and recycling."
Ursula Denison, Managing Director PRO EUROPE, welcomes EKOPAK into the Extended Producer Responsibility network. "PRO EUROPE continues to grow as a platform for packaging recovery organizations using the 'Green Dot' trademark as a financing symbol for their operations. The 'Green Dot' creates a unique connection between companies who use the logo on their packaging and contribute to financing the system, the consumers who separate their packaging, and the 'Green Dot' Packaging Recovery organisations responsible for organizing the recovery and recycling. We are looking forward to cooperating with EKOPAK in strengthening the 'Green Dot' concept of producer responsibility."
Mehmed Cero, Advisor to the Minister of the Environment and Tourism of Federation BiH, welcomed EKOPAK/s membership to the PRO EUROPE family and emphasized that the "Green Dot" will identify the responsible producers as the ones who joined the system of recovery and recycling of packaging waste. "We have set the target to collect and recycle 35% of all waste by 2016 and thus, to keep it away from landfills."
Senad Oprašić, Head of Environmental Department at the Ministry of Foreign Trade and Economic Relations of BiH, stressed out that Ekopak membership in PRO EUROPE is a very important step for BiH in the EU integration process and accession negotiation.
With the membership in PRO EUROPE, Ekopak has become authorized licencor of the "Green Dot" trademark, and all its clinets will now be granted the use of the symbol on their packaging.
PRO EUROPE and Green Dot - facts and figures:
- 31 member organisations active in 31 countries.
- 'Green Dot' is the most widely used trademark in the world, registered and protected in more than 170 countries
- About 170,000 companies are contributing licensees/members of PRO EUROPE member systems.
- About 460 billion packaging items are yearly labeled with the 'Green Dot', a registered trademark in more than 170 countries
- About 300 million inhabitants have access to separate collection financed by PRO EUROPE member systems.