WHERE

OTHERS

SEE

WASTE

WE

SEE

POTENTIAL

Ekopak is first and leading licensed packaging recovery organisation in Bosnia and Herzegovina

Ekopak is a pioneer in Bosnia and Herzegovina in the process of establishment and development of the packaging and packaging waste management system

Ekopak is founded by leading international, regional and local companies

Operations of Ekopak are based on best EU practices, but also on highest business standards which are in accordance with the standards of the shareholders

Ekopak takes responsibility for the fulfillment of legal obligations for producers, importers, distributors and retailers at the lowest sustainable cost and for the benefit of the entire community

Principle of Ekopak is equal treatment for all - the shareholders of Ekopak have neither special status

Employees of Ekopak perform their tasks fully professionally, responsibly, transparently and according to highest ethical standards which are in compliance with all legal requirements

Ekopak is 32. member of the PROEUROPE - European umbrella organisation for the packaging and packaging waste recovery systems, based in Brussels

Ekopak is authorised to assign an internationally trademark "Green dot" to companies that behave responsible towards their packaging waste on the market of Bosnia and Herzegovina

Any usage of the symbol on the market of Bosnia and Herzegovina without exclusive permission from Ekopak is violation of the current legislation

"Green Dot" on the packaging means that company who uses it fulfills its legal obligations through Ekopak, finances the establishment of system of separate collection and recycling of packaging waste in Bosnia and Herzegovina
News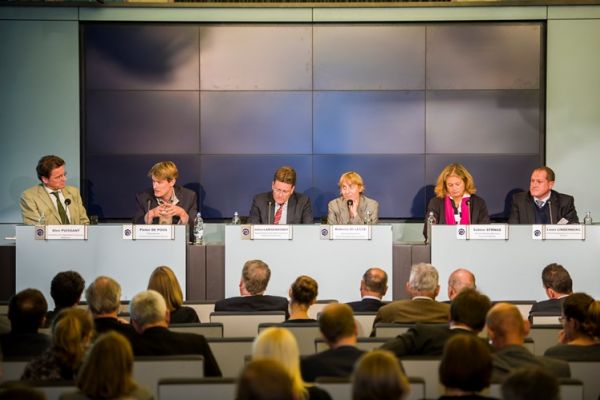 EUROPEN Celebrated 20th Anniversary in Brussels – "Packaging's direct positive effect on resource efficiency"
The European Organization for Packaging and the Environment – celebrated its 20th Anniversary by organizing a debate on the packaging supply chain's contribution towards a resource efficient Europe.
The event brought together over 150 representatives from EU institutions, the packaging supply chain, the waste management sector, NGOs, media and other actors with a stake in packaging management and sustainability.
In his opening video message EU Commissioner for the Environment Janez Potočnik underlined "it is clear that packaging can have a direct positive effect on resource efficiency, by for instance packaging's role in the prevention of food losses on the way to the shops, on the shelves and in our kitchens." This point was also taken up during the panel discussion, including EUROPEN members sharing their experience in implementing the requirements of EU waste legislation and providing an opportunity to discuss priorities for the upcoming review of the Packaging and Packaging Waste Directive (PPWD).
"Extended Producer Responsibility" (EPR), a key policy tool for implementing requirements of the PPWD and meeting packaging waste recycling and recovery targets, was also a focus of discussions. EUROPEN members believe it will be critical to introduce minimum requirements for all EPR schemes to ensure a level-playing field across the EU and discourage free riding. A clearer definition of roles and responsibilities is also needed for EPR schemes to continue delivering on recovery and recycling targets set by legislation.
Increasing collection for recycling or recovery of post-consumer packaging will be an important step towards accelerating Europe's transition to a circular economy. During the panel discussion it was emphasized that EUROPEN members welcome efforts to tackle post-consumer packaging.
The event was attended by Amela Hrbat, general director of Ekopak.