WHERE

OTHERS

SEE

WASTE

WE

SEE

POTENTIAL

Ekopak is first and leading licensed packaging recovery organisation in Bosnia and Herzegovina

Ekopak is a pioneer in Bosnia and Herzegovina in the process of establishment and development of the packaging and packaging waste management system

Ekopak is founded by leading international, regional and local companies

Operations of Ekopak are based on best EU practices, but also on highest business standards which are in accordance with the standards of the shareholders

Ekopak takes responsibility for the fulfillment of legal obligations for producers, importers, distributors and retailers at the lowest sustainable cost and for the benefit of the entire community

Principle of Ekopak is equal treatment for all - the shareholders of Ekopak have neither special status

Employees of Ekopak perform their tasks fully professionally, responsibly, transparently and according to highest ethical standards which are in compliance with all legal requirements

Ekopak is 32. member of the PROEUROPE - European umbrella organisation for the packaging and packaging waste recovery systems, based in Brussels

Ekopak is authorised to assign an internationally trademark "Green dot" to companies that behave responsible towards their packaging waste on the market of Bosnia and Herzegovina

Any usage of the symbol on the market of Bosnia and Herzegovina without exclusive permission from Ekopak is violation of the current legislation

"Green Dot" on the packaging means that company who uses it fulfills its legal obligations through Ekopak, finances the establishment of system of separate collection and recycling of packaging waste in Bosnia and Herzegovina
News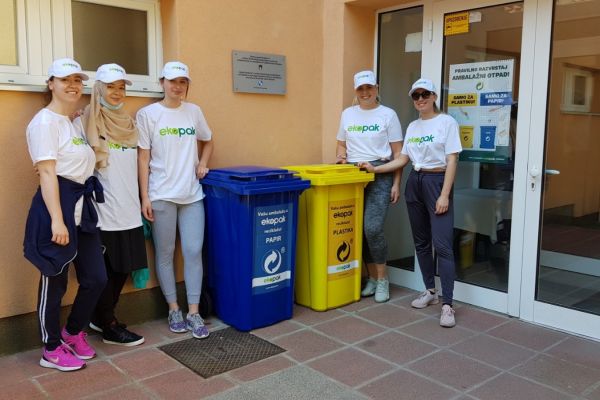 World Environment Day-Ekopak introduced Bjelave Student Center into the recycling system
On Saturday, June 5 Ekopak marked the World Environment Day in an appropriate way.
Ekopak representatives in cooperation with students from Student Center Bjelave. Sarajevo cleaned green areas in front of the dormitory, planted a beautiful flower island, set up containers for separate collection of packaging waste and introduced the this Student Center into Ekopak recycling system.
Through its activities, Ekopak develops awareness about importance of environmental protection and implements actions with citizens. It is through this activity on World Environment Day that we want to raise awareness about importance of packaging waste recycling and environmental protection in general.
"In order to establish a system of separate collection and recycling of packaging waste, it is necessary to work in two directions at the same time. One is the education of the population where we try to bring out the importance of change in the treatment of packaging waste closer to the citizens. That is why Ekopak carries out activities with children and young people. Because it is from them that the change and acceptance of a new culture of living begins, which means the separate disposal of packaging waste ", said Amela Hrbat, Managing Director of Ekopak.
Despite the extremely challenging situation due to the coronavirus pandemic, Ekopak with its partners - consisting of 21 collectors from all over the Federation of BiH and on behalf of more than 700 producers, importers, distributors and traders who transferred the obligation to manage packaging and packaging waste, send 11,911 tons of packaging waste for recycling. Since its establishment in 2012, Ekopak has sent a total of close to 90,000 tons of packaging waste for recycling.
Ekopak is a non-profit company founded in 2012 with the aim to take responsibility for fulfilling legal obligations in recycling and utilization of packaging waste in Federation of BiH on behalf of clients of packaging manufacturers, importers, fillers, distributors and traders.