WHERE

OTHERS

SEE

WASTE

WE

SEE

POTENTIAL

Ekopak is first and leading licensed packaging recovery organisation in Bosnia and Herzegovina

Ekopak is a pioneer in Bosnia and Herzegovina in the process of establishment and development of the packaging and packaging waste management system

Ekopak is founded by leading international, regional and local companies

Operations of Ekopak are based on best EU practices, but also on highest business standards which are in accordance with the standards of the shareholders

Ekopak takes responsibility for the fulfillment of legal obligations for producers, importers, distributors and retailers at the lowest sustainable cost and for the benefit of the entire community

Principle of Ekopak is equal treatment for all - the shareholders of Ekopak have neither special status

Employees of Ekopak perform their tasks fully professionally, responsibly, transparently and according to highest ethical standards which are in compliance with all legal requirements

Ekopak is 32. member of the PROEUROPE - European umbrella organisation for the packaging and packaging waste recovery systems, based in Brussels

Ekopak is authorised to assign an internationally trademark "Green dot" to companies that behave responsible towards their packaging waste on the market of Bosnia and Herzegovina

Any usage of the symbol on the market of Bosnia and Herzegovina without exclusive permission from Ekopak is violation of the current legislation

"Green Dot" on the packaging means that company who uses it fulfills its legal obligations through Ekopak, finances the establishment of system of separate collection and recycling of packaging waste in Bosnia and Herzegovina
News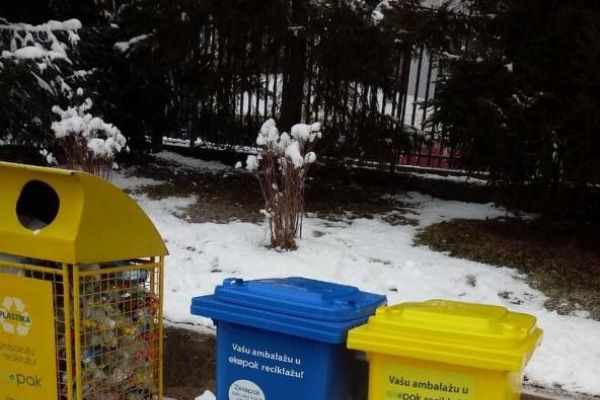 Ekopak supported an action named ''Together – little and big watchers of enviroment in the municipality Centar''
As a part of a project ''Together – little and big watchers of enviroment in the muniipality Centar'', has started a campaign of collecting package material waste in this municipality, that will last until May 15, 2019.
Under this action, four ground schools in Center have been inluded: ,,Alija Nametak,'' ,,Safvet-beg Basagic'', ,,Hasan Kikic'', ,,Nafija Sarajlic'' and ,,Silvije Strahimir Kranjevic'', for which Ekopak and COOR placed a set of containers for colleting package material waste. KJKP Rad also took a part in the project, that will transport collected package material waste. The school that colllects the most package material waste will be awarded.
An aim of this projet is to improve a selective collection of package material waste and eletronic waste, and to increase a level of information and interest of citizens regarding enviromental protection in the municipality Center, while specific aims of project are to improve knowledge and increase conscious of pupils, teahers and population regarding the selective collection of special waste categories and protected eviroment worths in the municipality Center, as well as to contribute to increase of amount of the selecitvely collected package material waste and electronic wast in this municipality.