WHERE

OTHERS

SEE

WASTE

WE

SEE

POTENTIAL

Ekopak is first and leading licensed packaging recovery organisation in Bosnia and Herzegovina

Ekopak is a pioneer in Bosnia and Herzegovina in the process of establishment and development of the packaging and packaging waste management system

Ekopak is founded by leading international, regional and local companies

Operations of Ekopak are based on best EU practices, but also on highest business standards which are in accordance with the standards of the shareholders

Ekopak takes responsibility for the fulfillment of legal obligations for producers, importers, distributors and retailers at the lowest sustainable cost and for the benefit of the entire community

Principle of Ekopak is equal treatment for all - the shareholders of Ekopak have neither special status

Employees of Ekopak perform their tasks fully professionally, responsibly, transparently and according to highest ethical standards which are in compliance with all legal requirements

Ekopak is 32. member of the PROEUROPE - European umbrella organisation for the packaging and packaging waste recovery systems, based in Brussels

Ekopak is authorised to assign an internationally trademark "Green dot" to companies that behave responsible towards their packaging waste on the market of Bosnia and Herzegovina

Any usage of the symbol on the market of Bosnia and Herzegovina without exclusive permission from Ekopak is violation of the current legislation

"Green Dot" on the packaging means that company who uses it fulfills its legal obligations through Ekopak, finances the establishment of system of separate collection and recycling of packaging waste in Bosnia and Herzegovina
News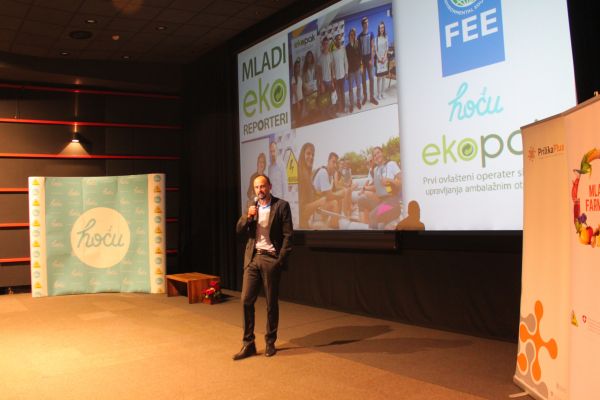 The 3rd Anniversary of hocu.ba Info Platform for Youth
The anniversary celebration of hocu.ba youth info platform was organized last week in presence of many partners, friends and young people involved in different programs implemented through this platform.
"Ekopak" was among the first ones to recognize the value and quality of the hocu.ba info platform and the team which has been implementing the projects. This was the occasion to point out that successful cooperation between hocu.ba and "Ekopak" would continue in order to engage and educate as many young people as possible about the importance of recycling of the packaging waste.
During the ceremony, several novelties were presented, such as:
- In September, Official MUNJA Incubator / Hocu.ba became a member of the global network of the Foundation for Environmental Education with two licensed programs to be implemented in Bosnia and Herzegovina
- Young Eco Reporters and Eco School in partnership with "EKOPAK" - the first operator of the recycling system for packaging waste
- A new season of Hocu.ba with 300 videoswas broadcasted by the BHTV national television's morning show only during last year
Below are the three-year achievements of hocu.ba info platform:
More than 12,000 useful information, tips and opportunities published
975,000 individual visitors
110.00 followers on social networks
4 million open pages
Junior PR team from 153 schools in 72 cities and all universities.
More information can be found at: https://www.hocu.ba/index.php/hocu.info/3-godine-hocu.ba---vodece-info-platforme-za-mlade/