WHERE

OTHERS

SEE

WASTE

WE

SEE

POTENTIAL

Ekopak is first and leading licensed packaging recovery organisation in Bosnia and Herzegovina

Ekopak is a pioneer in Bosnia and Herzegovina in the process of establishment and development of the packaging and packaging waste management system

Ekopak is founded by leading international, regional and local companies

Operations of Ekopak are based on best EU practices, but also on highest business standards which are in accordance with the standards of the shareholders

Ekopak takes responsibility for the fulfillment of legal obligations for producers, importers, distributors and retailers at the lowest sustainable cost and for the benefit of the entire community

Principle of Ekopak is equal treatment for all - the shareholders of Ekopak have neither special status

Employees of Ekopak perform their tasks fully professionally, responsibly, transparently and according to highest ethical standards which are in compliance with all legal requirements

Ekopak is 32. member of the PROEUROPE - European umbrella organisation for the packaging and packaging waste recovery systems, based in Brussels

Ekopak is authorised to assign an internationally trademark "Green dot" to companies that behave responsible towards their packaging waste on the market of Bosnia and Herzegovina

Any usage of the symbol on the market of Bosnia and Herzegovina without exclusive permission from Ekopak is violation of the current legislation

"Green Dot" on the packaging means that company who uses it fulfills its legal obligations through Ekopak, finances the establishment of system of separate collection and recycling of packaging waste in Bosnia and Herzegovina
News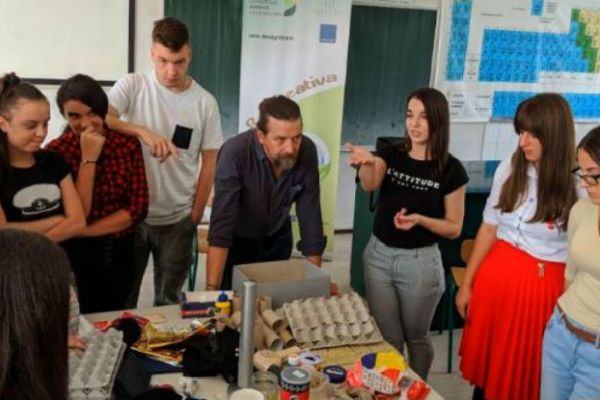 Project Re:Creative: Students met upcycling
Within the Re:Creative project, the Association "Aarhus Center in BiH" organized the first workshop where 18 students of 2nd and 3rd grades from the Secondary School of Environment and Wood Design and Secondary School of Applied Arts in Sarajevo, had the opportunity to learn about the concept of upcycling.
We all know what recycling is, but there is a similar but slightly different trend in the world: upcycling!
Upcycling is the re-use of old items, but from recycling differs in one key factor: upcycling implies to their improvement.
In this project, students will work with a tutor from the AWS Design studio in Vienna, Adam Wehsely-Swiczinsky.
Workshops were held in the premises of the Secondary School of Environment and Wood Design.
In October, an exhibition of manufactured objects is planned in the Kutcha Gallery
, where citizens will have the opportunity to buy interesting handcrafts from students. After the exhibition, high school students will continue
to create new items
with their professors and tutors, and another exhibition on the Planet Day is planned.
The project is financially supported by the Austrian Embassy in Sarajevo, the City of Sarajevo, Ekopak, ZEOS eko system ltd. and the OSCE Mission to Bosnia and Herzegovina.
Retrieved from: https://www.akta.ba/vijesti/projekat-recreativa-ucenici-se-upoznali-sa-upcyclingom/94373