WHERE

OTHERS

SEE

WASTE

WE

SEE

POTENTIAL

Ekopak is first and leading licensed packaging recovery organisation in Bosnia and Herzegovina

Ekopak is a pioneer in Bosnia and Herzegovina in the process of establishment and development of the packaging and packaging waste management system

Ekopak is founded by leading international, regional and local companies

Operations of Ekopak are based on best EU practices, but also on highest business standards which are in accordance with the standards of the shareholders

Ekopak takes responsibility for the fulfillment of legal obligations for producers, importers, distributors and retailers at the lowest sustainable cost and for the benefit of the entire community

Principle of Ekopak is equal treatment for all - the shareholders of Ekopak have neither special status

Employees of Ekopak perform their tasks fully professionally, responsibly, transparently and according to highest ethical standards which are in compliance with all legal requirements

Ekopak is 32. member of the PROEUROPE - European umbrella organisation for the packaging and packaging waste recovery systems, based in Brussels

Ekopak is authorised to assign an internationally trademark "Green dot" to companies that behave responsible towards their packaging waste on the market of Bosnia and Herzegovina

Any usage of the symbol on the market of Bosnia and Herzegovina without exclusive permission from Ekopak is violation of the current legislation

"Green Dot" on the packaging means that company who uses it fulfills its legal obligations through Ekopak, finances the establishment of system of separate collection and recycling of packaging waste in Bosnia and Herzegovina
News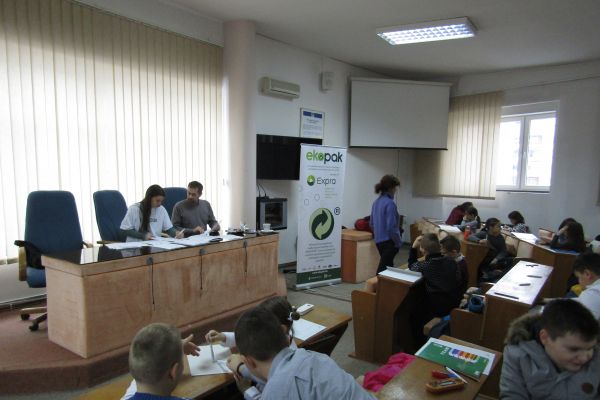 The winners of the final quiz for children in the project "The Smile of the Planet is in Your Hand" declared in Municipality of Vogosca
Vogosca, 22.12.2017. - As part of the project "Establishment and Development of Primary Selection of Packaging Waste from Communal Solid waste in Municipality of Vogosca", which is started in 2015 by setting up seven eco-islands for selective packaging waste disposal, this year also was organized the educational project for children "The Smile of Planet is in your hands ".
The pupils of 3rd and 4th grade of all elementary schools in the Municipality, attended the interactive workshops where they learned how and why they should separately dispose the packaging waste into the eco-islands located in their settlements. Upon completion of the project, a municipal competition for best placed students was held and the winners are:
1. place: Omar Hasanovic - Elementary school "Izet Sabic Hotonj" (award - laptop)
2. place: Tarik Jildizlar – Elementary school "Mirsad Prnjavorac" (award – tablet)
3. place: Lejla Hadzic – Elementary school "Mirsad Prnjavorac" (award– mobile phone)
The Mayor of the Municipality Edin Smajic and Ekopak's representative Zoran Rifelj, awarded the best students with prizes and all the participants received the graces with the message to use the knowledge gained within the project and to widen it to their parents, in order to pick as many as possible waste in Vogosca for recycling it and use the less place on city landfill.
In this way, successful cooperation between the municipalities of Vogosca and Ekopak is continued, with continuous education and other activities aimed at improving the system for separate disposal and recycling of packaging waste and raising citizens' awareness.