WHERE

OTHERS

SEE

WASTE

WE

SEE

POTENTIAL

Ekopak is first and leading licensed packaging recovery organisation in Bosnia and Herzegovina

Ekopak is a pioneer in Bosnia and Herzegovina in the process of establishment and development of the packaging and packaging waste management system

Ekopak is founded by leading international, regional and local companies

Operations of Ekopak are based on best EU practices, but also on highest business standards which are in accordance with the standards of the shareholders

Ekopak takes responsibility for the fulfillment of legal obligations for producers, importers, distributors and retailers at the lowest sustainable cost and for the benefit of the entire community

Principle of Ekopak is equal treatment for all - the shareholders of Ekopak have neither special status

Employees of Ekopak perform their tasks fully professionally, responsibly, transparently and according to highest ethical standards which are in compliance with all legal requirements

Ekopak is 32. member of the PROEUROPE - European umbrella organisation for the packaging and packaging waste recovery systems, based in Brussels

Ekopak is authorised to assign an internationally trademark "Green dot" to companies that behave responsible towards their packaging waste on the market of Bosnia and Herzegovina

Any usage of the symbol on the market of Bosnia and Herzegovina without exclusive permission from Ekopak is violation of the current legislation

"Green Dot" on the packaging means that company who uses it fulfills its legal obligations through Ekopak, finances the establishment of system of separate collection and recycling of packaging waste in Bosnia and Herzegovina
News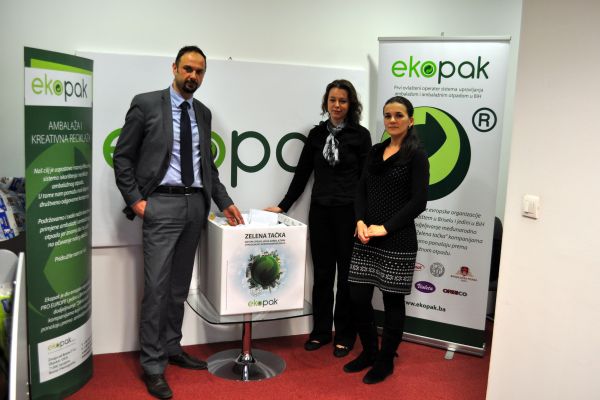 "Green Dot takes you to Europe" contest completed
Leila Nedžibović and Jelena Nikić travel to Europe
Sarajevo, February 6th 2015 - By announcing the winners on February 5th in Sarajevo and Banja Luka, the "Green Dot takes you to Europe" contest has been completed. The winners of the main prize, a trip for two to a European country that is in the Green Dot System are Leila Nedžibović from Tuzla and Jelena Nikić from Doboj.
To participate in the contest, it was necessary to send a Green Dot sign with product packaging and with a declaration from which it is visible which company puts that product on the market. Our lucky winners sent the Green Dot from packaging of the companies Henkel and Nestle Adriatic BH.
These companies have recognized the importance of international trademark the Green Dot that is placed on the packaging of the product and over Ekopak they meet their legal obligations related to the recovery and recycling of packaging waste. At this way companies sending a message of its social responsibility, concern for packaging waste generated after their product is spent and their contribution to environmental protection.
Consumers in our country are increasingly recognizing the Green Dot sign and look for products that have it, because in this way they're directly involved in the recycling of packaging waste.
Within the campaign we've organized promotions in shopping centers in Banja Luka, Bihac, Zenica, Tuzla, Sarajevo and Mostar.
Ekopak invites all manufacturers, importers and end suppliers to join the system that is successfully establishing in our country by the B&H companies gathered around Ekopak, modeled by the most efficient systems of European countries and to use the Green Dot sign on packaging of their products.
List of winners of consolation prizes will be announced within the next five days on www.ekopak.ba and www.zelenatacka.ba, as well as the Ekopak FB page.