WHERE

OTHERS

SEE

WASTE

WE

SEE

POTENTIAL

Ekopak is first and leading licensed packaging recovery organisation in Bosnia and Herzegovina

Ekopak is a pioneer in Bosnia and Herzegovina in the process of establishment and development of the packaging and packaging waste management system

Ekopak is founded by leading international, regional and local companies

Operations of Ekopak are based on best EU practices, but also on highest business standards which are in accordance with the standards of the shareholders

Ekopak takes responsibility for the fulfillment of legal obligations for producers, importers, distributors and retailers at the lowest sustainable cost and for the benefit of the entire community

Principle of Ekopak is equal treatment for all - the shareholders of Ekopak have neither special status

Employees of Ekopak perform their tasks fully professionally, responsibly, transparently and according to highest ethical standards which are in compliance with all legal requirements

Ekopak is 32. member of the PROEUROPE - European umbrella organisation for the packaging and packaging waste recovery systems, based in Brussels

Ekopak is authorised to assign an internationally trademark "Green dot" to companies that behave responsible towards their packaging waste on the market of Bosnia and Herzegovina

Any usage of the symbol on the market of Bosnia and Herzegovina without exclusive permission from Ekopak is violation of the current legislation

"Green Dot" on the packaging means that company who uses it fulfills its legal obligations through Ekopak, finances the establishment of system of separate collection and recycling of packaging waste in Bosnia and Herzegovina
Projects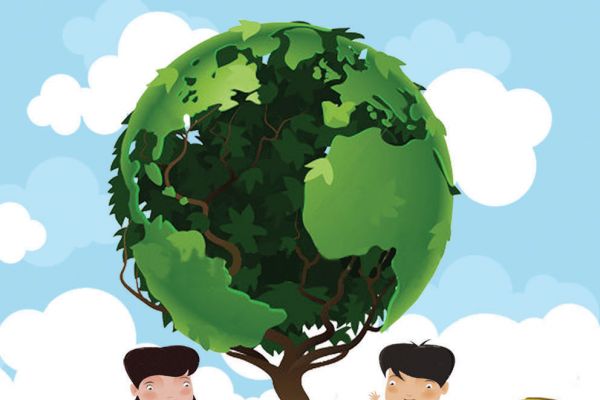 The Second Cycle of "The Planet's Smile is in Your Hands" Project has Started in Sarajevo
The second cycle of the project "The Planet's Smile is in Your Hands" that Ekopak realises with NGO Ekotim, has started today.
The children in the previous school year have shown immense interest thus this project continues in the following primary schools:
- Isak Samokovlija,
- Musa Ćazim Ćatić,
- KŠC Sarajevo,
- Nafija Sarajlić,
- Velešićki heroji
- Aleksa Šantić
and secondary schools:
- Peta gimnazija (The Fifth High School)
- KŠC "Sveti Josip" Sarajevo – Gimnazija (KŠC "Sveti Josip" Sarajevo – High School)
- KŠC "Sveti Josip" Sarajevo - Medicinska škola (KŠC "Sveti Josip" Sarajevo – Medical High School)
- Srednja medicinska škola Sarajevo (Medical High School Sarajevo)
- Srednja ugostiteljsko-turistička škola (Catering-Tourist High School)
The educational workshops have officially started today in KŠC Medical School "Sveti Josip" and Catering-Tourist High School in Sarajevo.
In the first part of the Project, educational lectures will be held in all schools from November 4th til mid December. The topic of the lectures are packaging waste management and recycling. The main objective is to offer relevant information about the consequences of inadequate waste management and the benefits of separate packaging waste collecting and recycling to all primary and secondary school students. By the end of the educational Project, the students will have the opportunity to show the acquired knowledge by participating in quizzes within their schools whereas the best ones will compete with the finalists from other schools in the final quiz.
Apart from the individual quizzes, the students of the schools from the first and the second cycle of the Project will have the opportunity to win prizes competing in packaging waste collecting realized by the logistical support of "Papir Servis".
Ekopak will provide the valuable awards: laptops, tablets, photo cameras and encyclopedias, for the winners of the competitions, packaging waste collecting and quizzes.
All schools, participants in the projects "The Planet's Smile is in Your Hands", will be delivered waste bins for separate paper and plastic packaging waste disposal. The goal, for every school, is to acquire new approach towards waste and to continues separate packaging waste disposal, adapting the future generations to the new culture of living, which finally creates the idea that separate waste disposal and recycling of the packaging waste will become regular practice and lifestyle in our country.