WHERE

OTHERS

SEE

WASTE

WE

SEE

POTENTIAL

Ekopak is first and leading licensed packaging recovery organisation in Bosnia and Herzegovina

Ekopak is a pioneer in Bosnia and Herzegovina in the process of establishment and development of the packaging and packaging waste management system

Ekopak is founded by leading international, regional and local companies

Operations of Ekopak are based on best EU practices, but also on highest business standards which are in accordance with the standards of the shareholders

Ekopak takes responsibility for the fulfillment of legal obligations for producers, importers, distributors and retailers at the lowest sustainable cost and for the benefit of the entire community

Principle of Ekopak is equal treatment for all - the shareholders of Ekopak have neither special status

Employees of Ekopak perform their tasks fully professionally, responsibly, transparently and according to highest ethical standards which are in compliance with all legal requirements

Ekopak is 32. member of the PROEUROPE - European umbrella organisation for the packaging and packaging waste recovery systems, based in Brussels

Ekopak is authorised to assign an internationally trademark "Green dot" to companies that behave responsible towards their packaging waste on the market of Bosnia and Herzegovina

Any usage of the symbol on the market of Bosnia and Herzegovina without exclusive permission from Ekopak is violation of the current legislation

"Green Dot" on the packaging means that company who uses it fulfills its legal obligations through Ekopak, finances the establishment of system of separate collection and recycling of packaging waste in Bosnia and Herzegovina
Projects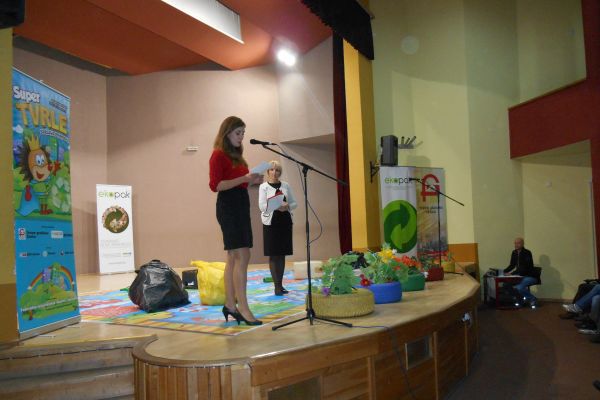 "The Planet's Smile is in Your Hands" project successfully implemented in the Prozor-Rama Municipality
In the Prozor Rama Cultural Center "Prozor", a manifestation celebrating a successful ending of the educational project "The Planet's Smile is in Your Hands" was held.
The project was implemented by the members of the Eco Association "Izvor" in cooperation with the school principals, public utility servise companies, municipality institutions, inspection services and expert associates in the field of ecology and environment from the Prozor-Rama municipality.
The main objective of the project was to offer the opportunity for the youngest citizens of the Prozor-Rama municipality to acquire new knowledge about the importance of the packaging waste separate disposal and its recycling in a fun and interactive way.
The project gathered 2.100 children from all schools in the Prozor Rama Municiaplity: fourteen primary schools, one high school, one kindergarten and one institution for the children with special needs.
During the project implementation, the participants had the opportunity to show the acquired knowledge by competing in the quiz as well as to compete in the packaging waste collecting. The prizes were funded by Ekopak, which is also the project initiator.
The final result of the paper packaging waste competition among schools is:
Primary school Marka Marulića, Prozor - 1742 kg

Primary school

Fra. Jeronima Vladića, Ripci - 1328.50 kg

Primary school. Ivana Mažuranića, Gračac - 557.40 kg

Primary school Veselka Tenžere, Uzdol - 328.70 kg

Primary school Šćipe - 242 kg

Primary school Alije Isakovića, Prozor - 200 kg
At the afore mentioned ceremony, children who showed the best knowledge on the quiz on the packaging waste management and schools which collected the largest amount of the packaging waste were awarded. The "Recycling is not a Hassle" play was performed; the play aims at raising awareness and sense of responsibility about the importance of environmental protection among children.
"The Planet's Smile is in Your Hands" project will be implemented in Sarajevo and Bihać.