WHERE

OTHERS

SEE

WASTE

WE

SEE

POTENTIAL

Ekopak is first and leading licensed packaging recovery organisation in Bosnia and Herzegovina

Ekopak is a pioneer in Bosnia and Herzegovina in the process of establishment and development of the packaging and packaging waste management system

Ekopak is founded by leading international, regional and local companies

Operations of Ekopak are based on best EU practices, but also on highest business standards which are in accordance with the standards of the shareholders

Ekopak takes responsibility for the fulfillment of legal obligations for producers, importers, distributors and retailers at the lowest sustainable cost and for the benefit of the entire community

Principle of Ekopak is equal treatment for all - the shareholders of Ekopak have neither special status

Employees of Ekopak perform their tasks fully professionally, responsibly, transparently and according to highest ethical standards which are in compliance with all legal requirements

Ekopak is 32. member of the PROEUROPE - European umbrella organisation for the packaging and packaging waste recovery systems, based in Brussels

Ekopak is authorised to assign an internationally trademark "Green dot" to companies that behave responsible towards their packaging waste on the market of Bosnia and Herzegovina

Any usage of the symbol on the market of Bosnia and Herzegovina without exclusive permission from Ekopak is violation of the current legislation

"Green Dot" on the packaging means that company who uses it fulfills its legal obligations through Ekopak, finances the establishment of system of separate collection and recycling of packaging waste in Bosnia and Herzegovina
Projects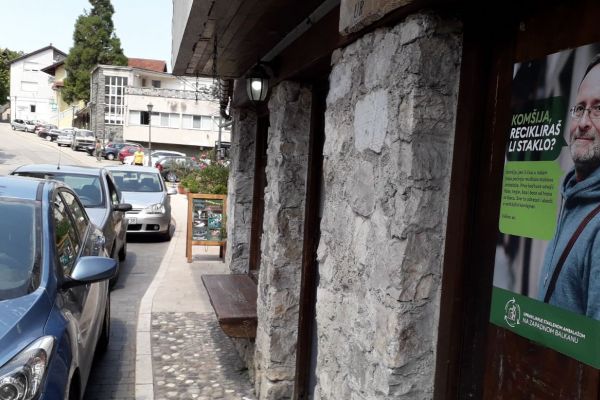 Additional activities are being carried out in Konjic with the aim of increasing the separation of glass packaging waste
As part of the project "Management of glass packaging in the Western Balkans", Ekopak is undertaking additional activities in order to separate as much glass packaging waste as possible and send it for recycling. Thus, special containers for disposing of glass packaging as well as branded aprons for waiters were delivered to catering facilities in the Municipality of Konjic. Also, in order to better inform the public in Cafés and restaurants information posters were placed.
In this way, Ekopak called on to all citizens in Konjic to separate glass packaging waste and in order to contribute to the development of their municipality as a place of comfortable living in which waste management occupies an important place. Anyone who wants to get more information about the project and about separating packaging glass waste, can get it through promotional materials that are posted on bulletin boards, public institutions and restaurants, as well as in the program of Radio Konjic.
We remind you that the German Organization for International Cooperation (GIZ) and the National Alliance for Local Economic Development "Naled" from Serbia in cooperation with the system operators "Sekopak" from Serbia, "Pakomak" from Northern Macedonia and Ekopak from Bosnia and Herzegovina, as well as the Association for Economic Development of Herzegovina REDAH, and the Association of Local Self-Government Units ZELS, launched this regional project - "Management of glass packaging in the Western Balkans", which will be implemented in Bosnia and Herzegovina in Bihać and Novi Travnik, Konjic and Ilidža and one of the goals is to increase the recycling rate of glass packaging in these municipalities by 20%.