WHERE

OTHERS

SEE

WASTE

WE

SEE

POTENTIAL

Ekopak is first and leading licensed packaging recovery organisation in Bosnia and Herzegovina

Ekopak is a pioneer in Bosnia and Herzegovina in the process of establishment and development of the packaging and packaging waste management system

Ekopak is founded by leading international, regional and local companies

Operations of Ekopak are based on best EU practices, but also on highest business standards which are in accordance with the standards of the shareholders

Ekopak takes responsibility for the fulfillment of legal obligations for producers, importers, distributors and retailers at the lowest sustainable cost and for the benefit of the entire community

Principle of Ekopak is equal treatment for all - the shareholders of Ekopak have neither special status

Employees of Ekopak perform their tasks fully professionally, responsibly, transparently and according to highest ethical standards which are in compliance with all legal requirements

Ekopak is 32. member of the PROEUROPE - European umbrella organisation for the packaging and packaging waste recovery systems, based in Brussels
Projects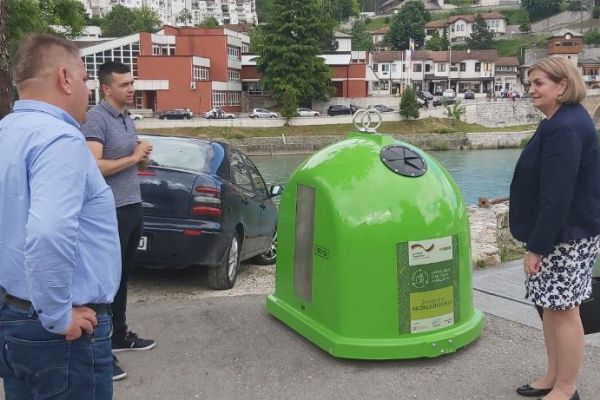 Ekopak and PUC "Standard" satisfied with the first quantities of collected glass packaging in Konjic-Management of glass packaging in the Western Balkans
As part of the project "Management of glass packaging in the Western Balkans", representatives of Ekopak, managing director Amela Hrbat and keyaccount manager Damir Maglajlić visited Konjic and meet with partner in the project, JKP "Standard", director Samir Memić, head of public hygiene Emir Zahirović and manager in the public hygiene service, Anes Šljivo. After the meeting, they visited locations where special containers for collecting glass packaging were placed.
Mr. Samir Memić, director of Public Utilty Company "Standard" informed the representatives of Ekopak that most of the glass containers were placed at the planned locations and first quantities of collected packaging had already arrived. Considering that the project has only recently started in this city, PUC "Standard" emphasized that they are satisfied with the first quantities of collected glass packaging and sure that by the end of the year that amount will be much higher.
It was agreed at the meeting that the promotion of the project will be significantly strengthened in the future. Special attention will be paid to HORECA channels and to educational performances and workshops for the youngest residents of Konjic.