WHERE

OTHERS

SEE

WASTE

WE

SEE

POTENTIAL

Ekopak is first and leading licensed packaging recovery organisation in Bosnia and Herzegovina

Ekopak is a pioneer in Bosnia and Herzegovina in the process of establishment and development of the packaging and packaging waste management system

Ekopak is founded by leading international, regional and local companies

Operations of Ekopak are based on best EU practices, but also on highest business standards which are in accordance with the standards of the shareholders

Ekopak takes responsibility for the fulfillment of legal obligations for producers, importers, distributors and retailers at the lowest sustainable cost and for the benefit of the entire community

Principle of Ekopak is equal treatment for all - the shareholders of Ekopak have neither special status

Employees of Ekopak perform their tasks fully professionally, responsibly, transparently and according to highest ethical standards which are in compliance with all legal requirements

Ekopak is 32. member of the PROEUROPE - European umbrella organisation for the packaging and packaging waste recovery systems, based in Brussels

Ekopak is authorised to assign an internationally trademark "Green dot" to companies that behave responsible towards their packaging waste on the market of Bosnia and Herzegovina

Any usage of the symbol on the market of Bosnia and Herzegovina without exclusive permission from Ekopak is violation of the current legislation

"Green Dot" on the packaging means that company who uses it fulfills its legal obligations through Ekopak, finances the establishment of system of separate collection and recycling of packaging waste in Bosnia and Herzegovina
Projects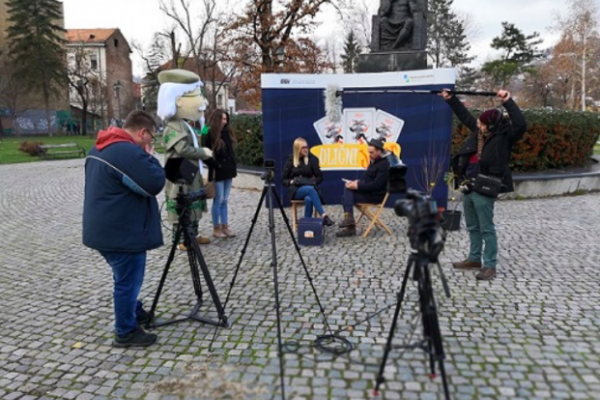 Ekopak in collaboration with CCI realized Eko-quiz show
With an aim of raising public conscious about significance of environmental protection and energetic efficiency, the Center of Civil Initiatives (CCI) and Ekopak realized in Bihać, Zenica, Tuzla, Sarajevo, Livno and Mostar an interesting Eko – quiz show, in which participants, ''accidental passers-by,'' answered on a set of questions about environmental protection, waste managing and energetic efficiency.
Each one of participants had a chance to win a valuable money-price, which was secured by Ekopak, and an interesting fact is that a part of the prize fund of participants who had not correctly answered all questions, was set aside for buying horticultural plants and seeding, that will be planted on ground where participants of quiz-show are coming from.
,,One of the aims of Ekopak as an socially responsible organization, is also public education of environmental protection and an importance of recycling packaging waste material, and therefore we have most willingly accepted the offer of CCI for collaboration in realization of this project. This is just one of many campaigns that Europak realizes with the aim of promoting environmental protection, and we will continue with this practice in future. Honestly, I hope that TV-viewers of the quiz-show will entertain and learn a lot about environmental protection and importance of packaging waste material recycling,'' said the director of Ekopak Amela Hrbat.
Activities during street quiz-show were realized in the November and December last year, and at the moment they work on postproduction of all six shows that were planned to be transmitted during February and March 2019. Negotiations with leading TV houses in Federation of BiH are in progress, and the quiz-show will be transmitted on the Internet Television ''Iniciativa TV'', that is in CCI ownership.