WHERE

OTHERS

SEE

WASTE

WE

SEE

POTENTIAL

Ekopak is first and leading licensed packaging recovery organisation in Bosnia and Herzegovina

Ekopak is a pioneer in Bosnia and Herzegovina in the process of establishment and development of the packaging and packaging waste management system

Ekopak is founded by leading international, regional and local companies

Operations of Ekopak are based on best EU practices, but also on highest business standards which are in accordance with the standards of the shareholders

Ekopak takes responsibility for the fulfillment of legal obligations for producers, importers, distributors and retailers at the lowest sustainable cost and for the benefit of the entire community

Principle of Ekopak is equal treatment for all - the shareholders of Ekopak have neither special status

Employees of Ekopak perform their tasks fully professionally, responsibly, transparently and according to highest ethical standards which are in compliance with all legal requirements

Ekopak is 32. member of the PROEUROPE - European umbrella organisation for the packaging and packaging waste recovery systems, based in Brussels

Ekopak is authorised to assign an internationally trademark "Green dot" to companies that behave responsible towards their packaging waste on the market of Bosnia and Herzegovina

Any usage of the symbol on the market of Bosnia and Herzegovina without exclusive permission from Ekopak is violation of the current legislation

"Green Dot" on the packaging means that company who uses it fulfills its legal obligations through Ekopak, finances the establishment of system of separate collection and recycling of packaging waste in Bosnia and Herzegovina
Projects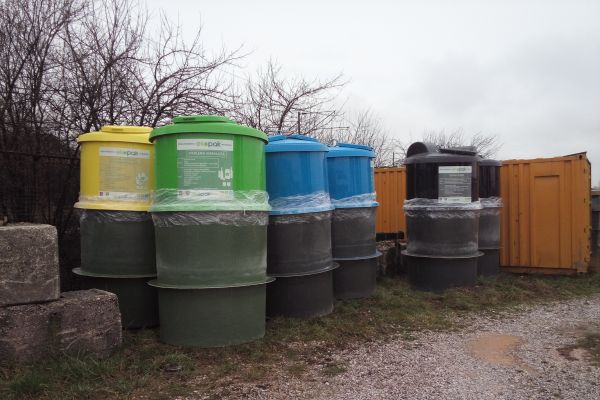 Twenty underground containers for the recycling of packaging waste delivered in Sarajevo
Sarajevo, 04.04.2016. - Based on the previously signed agreement on cooperation between the Ministry of municipal economy and infrastructure of the Sarajevo Canton, PUC "Rad" Sarajevo and Ekopak, Ekopak procured handover of infrastructure for the establishment of underground eco islands.
Within the project "Development of primary selection of packaging waste from municipal solid waste in Canton Sarajevo" Ekopak procured 20 underground containers for paper, plastic, glass and general waste, which will be placed at selected locations in Sarajevo. The project envisages the establishment of 50 eco-islands, as well as procurement of special vehicles that will allow the discharge of containers.
PUC "Rad" Sarajevo will carry out the construction work for setting eco-islands, regular emptying containers and transport for the collected packaging waste to the process of further processing and preparation for recycling.
Ministry of municipal economy and infrastructure of the Sarajevo Canton, PUC "Rad" Sarajevo and Ekopak will jointly conduct educational cooperation projects and promotional activities that are designed to increase awareness about the importance of separate collection and recycling of packaging waste for the citizens, ie. the introduction of a new approach to waste management, that is developing in all EU countries, and the region over the last 20 years.
As the first authorized system operator of packaging waste management in our country, Ekopak is continuously working to establish a Green dot system of recycling modeled on the practice and experience of system operators in the European umbrella organization Pro Europe and Expra. Thus, in 17 municipalities in the Federation is set side significant funds for the purchase of necessary infrastructure which is used by utility companies, and for the past 4 years has been successfully collected and recycled approximately 30,000 tons of packaging waste on behalf of all socially responsible companies that have their legal obligations under the Rules transferred to Ekopak .