WHERE

OTHERS

SEE

WASTE

WE

SEE

POTENTIAL

Ekopak is first and leading licensed packaging recovery organisation in Bosnia and Herzegovina

Ekopak is a pioneer in Bosnia and Herzegovina in the process of establishment and development of the packaging and packaging waste management system

Ekopak is founded by leading international, regional and local companies

Operations of Ekopak are based on best EU practices, but also on highest business standards which are in accordance with the standards of the shareholders

Ekopak takes responsibility for the fulfillment of legal obligations for producers, importers, distributors and retailers at the lowest sustainable cost and for the benefit of the entire community

Principle of Ekopak is equal treatment for all - the shareholders of Ekopak have neither special status

Employees of Ekopak perform their tasks fully professionally, responsibly, transparently and according to highest ethical standards which are in compliance with all legal requirements

Ekopak is 32. member of the PROEUROPE - European umbrella organisation for the packaging and packaging waste recovery systems, based in Brussels
News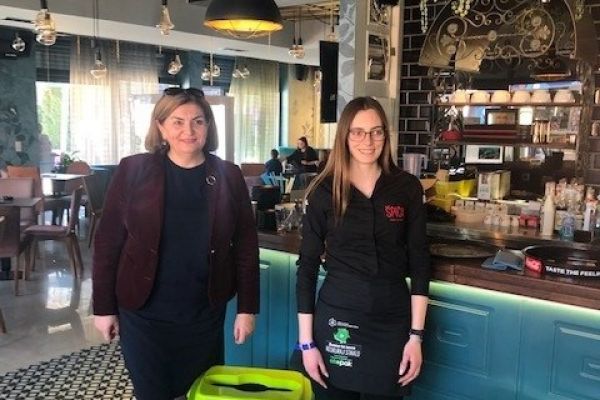 Ekopak handed over containers for glass packaging waste to HORECA facilities in Ilidža
In order to improve the implementation of the project "Management of glass packaging in the Western Balkans", representatives of Ekopak and PUC Rad visited restaurants in the Municipality of Ilidža: Hotel Terme, British Pub, Pub Incognito, Caffe Premium, Caffe Orient Express, Restaurant Killim, Caffe Dva Šešira, Caffe Babalu and Caffe Tarapana.
On that occasion, special containers for the disposal of glass packaging waste were handed over to the catering facilities and waiter aprons with motifs and the project logo were handed over to the employees. The catering facilities also received "Friends of Recycling" stickers, which will be displayed at the entrances of the restaurant to inform guests that the restaurant is included in the packaging waste recycling system. 
The municipality of Ilidža is one of the four local communities, in addition to the city of Bihać, municipalities of Novi Travnik and Konjic, which are included in the regional project "Management of glass packaging in the Western Balkans".
"This project aims to establish an infrastructure for more cost-effective recycling of glass packaging. So far, we have set up 190 special containers for collecting glass packaging in these municipalities and we are recording notable results. We hope that the residents of the Municipality of Ilidža will be more involved in this project and together with us begin to select and properly dispose their packaging waste in order to have a beautiful and clean Ilidža" said Amela Hrbat, managing director of Ekopak.
The project "Management of glass packaging in the Western Balkans" is implemented within the development partnership program with the private sector (develoPPP), and is funded by the German Federal Ministry for Economic Cooperation and Development (BMZ), as well as the first BiH. operator of the packaging waste management system "Ekopak". Apart from Bosnia and Herzegovina, this project is being implemented in Serbia and Northern Macedonia.
The project that started in BiH in January 2020 and will last until June 2022, in addition to Ekopak, is being implemented by GiZ and REDAH, as well as utility companies of the mentioned municipalities. After that, the plan is to have a sustainable system for collecting glass packaging waste in these local communities, which would be extended to other local communities.