WHERE

OTHERS

SEE

WASTE

WE

SEE

POTENTIAL

Ekopak is first and leading licensed packaging recovery organisation in Bosnia and Herzegovina

Ekopak is a pioneer in Bosnia and Herzegovina in the process of establishment and development of the packaging and packaging waste management system

Ekopak is founded by leading international, regional and local companies

Operations of Ekopak are based on best EU practices, but also on highest business standards which are in accordance with the standards of the shareholders

Ekopak takes responsibility for the fulfillment of legal obligations for producers, importers, distributors and retailers at the lowest sustainable cost and for the benefit of the entire community

Principle of Ekopak is equal treatment for all - the shareholders of Ekopak have neither special status

Employees of Ekopak perform their tasks fully professionally, responsibly, transparently and according to highest ethical standards which are in compliance with all legal requirements

Ekopak is 32. member of the PROEUROPE - European umbrella organisation for the packaging and packaging waste recovery systems, based in Brussels

Ekopak is authorised to assign an internationally trademark "Green dot" to companies that behave responsible towards their packaging waste on the market of Bosnia and Herzegovina

Any usage of the symbol on the market of Bosnia and Herzegovina without exclusive permission from Ekopak is violation of the current legislation

"Green Dot" on the packaging means that company who uses it fulfills its legal obligations through Ekopak, finances the establishment of system of separate collection and recycling of packaging waste in Bosnia and Herzegovina
News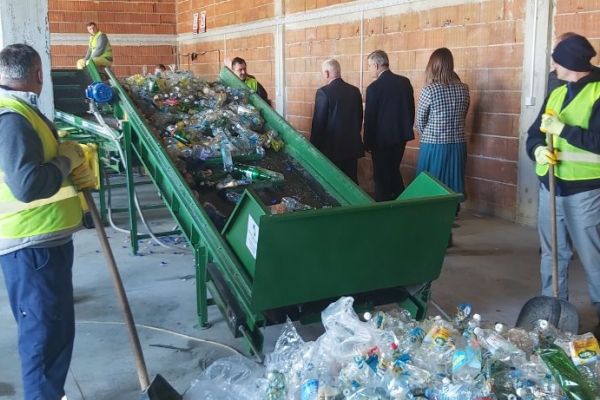 The cooperation between Ekopak and Komrad from Bihać achieved great results
Public utility company "Komrad" from Bihać on October 19, 2021. ceremoniously opened a recycling yard for the selection of useful waste.Ekopak also actively participated in this project. Thus, from now on, collected packaging will be able to be sorted and prepared for further processing and recycling in this city.
Ekopak has been successfully cooperating with Komrad since the beginning of its operational work and has played a significant role in modernizing the operations of this utility company. Today, "Komrad" is one of the most advanced utility companies in BiH, which was confirmed at the opening ceremony by the director of this company Mehura Selimović and the mayor of Bihać Suhret Fazlić and the Minister of Physical Planning, Construction and Environmental Protection USK Adnan Alagić.
In 2013, Ekopak concluded the first contract with the Municipality of Bihać regarding the establishment and development of primary selection of packaging waste from municipal solid waste and co-financed the purchase of vehicles needed to transport the collected packaging waste and procured 20,000 pieces of bags for collecting all types of packaging waste in individual households in the area of ​​Bihać. In order to improve the business of this public utility company and strengthen human resources, in 2015 Ekopak concluded an agreement with Komrad on co-financing the gross salary and other benefits for one employee of PJ Reciklaža who works on sorting packaging waste and in 2016 we helped procure recycling waste table. Also, in 2017, Ekopak co-financed the construction of a recycling yard and a year later procured 200 bins for separate disposal of packaging waste in individual households of the City of Bihać.
This year, we also signed a Memorandum of Understanding related to the procurement of 50 special containers - bells for the collection of glass packaging within the Regional Project "Collection of glass packaging in the Western Balkans". On that occasion, Ekopak also procured 4,800 bags for collecting glass packaging in catering facilities in the City of Bihać.
The best example of successful cooperation between the City of Bihać, the Ekopak system operator and the public utility company Komrad is shown by the fact that about fifty percent of the total amount of collected packaging waste from all utility companies with whom Ekopak cooperates in FBIH comes from the Public Utility Company "Komrad".