WHERE

OTHERS

SEE

WASTE

WE

SEE

POTENTIAL

Ekopak is first and leading licensed packaging recovery organisation in Bosnia and Herzegovina

Ekopak is a pioneer in Bosnia and Herzegovina in the process of establishment and development of the packaging and packaging waste management system

Ekopak is founded by leading international, regional and local companies

Operations of Ekopak are based on best EU practices, but also on highest business standards which are in accordance with the standards of the shareholders

Ekopak takes responsibility for the fulfillment of legal obligations for producers, importers, distributors and retailers at the lowest sustainable cost and for the benefit of the entire community

Principle of Ekopak is equal treatment for all - the shareholders of Ekopak have neither special status

Employees of Ekopak perform their tasks fully professionally, responsibly, transparently and according to highest ethical standards which are in compliance with all legal requirements

Ekopak is 32. member of the PROEUROPE - European umbrella organisation for the packaging and packaging waste recovery systems, based in Brussels

Ekopak is authorised to assign an internationally trademark "Green dot" to companies that behave responsible towards their packaging waste on the market of Bosnia and Herzegovina

Any usage of the symbol on the market of Bosnia and Herzegovina without exclusive permission from Ekopak is violation of the current legislation

"Green Dot" on the packaging means that company who uses it fulfills its legal obligations through Ekopak, finances the establishment of system of separate collection and recycling of packaging waste in Bosnia and Herzegovina
News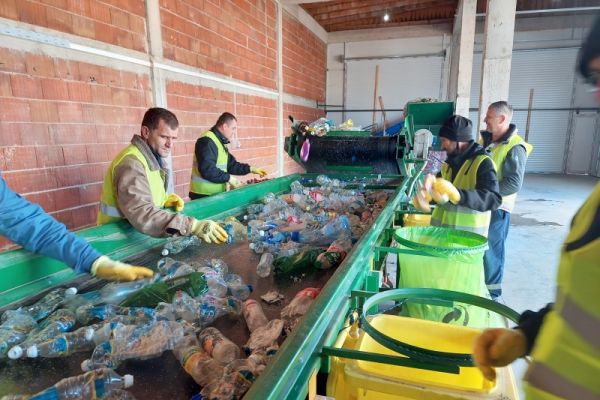 Waste recycling plant opened in Bihać
In Public Utility Company Komrad from Bihać, in Bosnia and Herzegovina, a recycling business unit has been opened, which will deal with the separation of useful waste and insted of landfill it will be disposed of in a special way.
Mehura Selimović, General Manager of PUC Komrad Bihać, expressed his satisfaction that the project was successfully implemented.
- Our company is one step ahead of others and I am proud that we knew how to recognize the importance of this project in time and because this is one of the preconditions for entering the European Union. I can say that we are a leader in the collection and processing of packaging waste and we will continue to work to preserve that standard - said Selimovic.
Adnan Alagić, Minister of Construction, Physical Planning and Environmental Protection of Una-Sana Canton, promised to help PUC Komrad in the future.
- Less waste will go to the landfill that is difficult to decompose and may not decompose for years. We have participated in the realization of similar projects several times and we will continue. This year, they applied for funds from environmental fees for the purchase of vehicles for collection and transport of packaging waste and I think they met the criteria. They will have support this year as well and we will continue to help them - said Alagić.
Šuhret Fazlić, the mayor of Bihać, pointed out that the city as a tourist ecological center must work on the practical application of the ecological awareness of its citizens.
- This project should be the beginning of an era and we must quickly get into a situation to separate waste, to give citizens different bags for waste separation, to drive as little garbage as possible to the landfill and I think that citizens will accept this activities - said Fazlić.
The partner in this project is Ekopak, a packaging waste management company.
- We are cooperating with ten companies and Komrad is convincingly in the lead in that cooperation, so we are pleased that they made the work of this plant official today. This is something that the European Union requires in transposing the acquis and good practices and we are only adapting it to our conditions. That is something that awaits us, because we have to start with waste separation - explains Amela Hrbat, director of Ekopak.
So far, about 150,000 convertible marks (KM) have been invested in the realization of the project, which were provided by the City of Bihać, the Ministry of Construction, Physical Planning and Environmental Protection of the USC, Ekopak d.o.o. and the Environmental Protection Fund of BiH. entity Federation of BiH.