WHERE

OTHERS

SEE

WASTE

WE

SEE

POTENTIAL

Ekopak is first and leading licensed packaging recovery organisation in Bosnia and Herzegovina

Ekopak is a pioneer in Bosnia and Herzegovina in the process of establishment and development of the packaging and packaging waste management system

Ekopak is founded by leading international, regional and local companies

Operations of Ekopak are based on best EU practices, but also on highest business standards which are in accordance with the standards of the shareholders

Ekopak takes responsibility for the fulfillment of legal obligations for producers, importers, distributors and retailers at the lowest sustainable cost and for the benefit of the entire community

Principle of Ekopak is equal treatment for all - the shareholders of Ekopak have neither special status

Employees of Ekopak perform their tasks fully professionally, responsibly, transparently and according to highest ethical standards which are in compliance with all legal requirements

Ekopak is 32. member of the PROEUROPE - European umbrella organisation for the packaging and packaging waste recovery systems, based in Brussels

Ekopak is authorised to assign an internationally trademark "Green dot" to companies that behave responsible towards their packaging waste on the market of Bosnia and Herzegovina

Any usage of the symbol on the market of Bosnia and Herzegovina without exclusive permission from Ekopak is violation of the current legislation

"Green Dot" on the packaging means that company who uses it fulfills its legal obligations through Ekopak, finances the establishment of system of separate collection and recycling of packaging waste in Bosnia and Herzegovina
News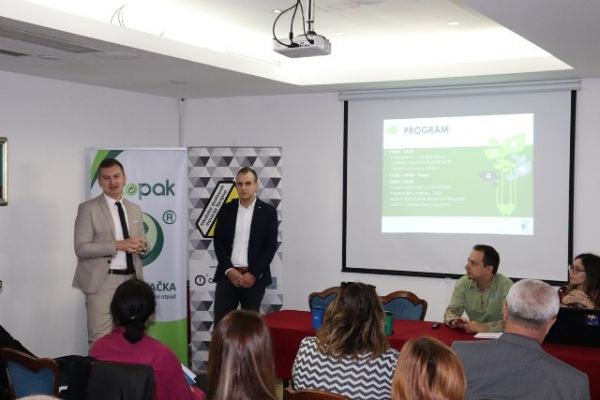 First annual meeting of "Eco-Schools" held - Sarajevo is hosting next year's Young Eco Reporters International Conference
Organized by the MUNJA Social Innovation Incubator and the first authorized operator fot the packaging waste management system Ekopak and Tetra Pak, the first official annual meeting of the "Eco-School" was held in Sarajevo.
The meeting established a work plan for the current school year, in which more than 30 primary and secondary schools from BiH will participate already in the autumn. Also, in November, an invitation will be opened for the international creative competition "Young Eco Reporters", which affirms young people from primary and secondary schools to be researchers and journalists.
In 2018, Ekopak, in cooperation with its partners from Europe, helped make Munja Incubator a member of the FEE network, and was entrusted with the implementation of the Eco-School project in BiH. This project is of great importance for the development of the system of selective disposal and recycling of packaging waste, because through internationally established standards it encourages school-age children, teaching staff and local communities to establish and develop in schools awareness of the importance of waste recycling and environmental protection in general.
"Speaking about the plans of the Eco-schools in BiH, the announcement of the organization of a technical meeting of the operators of the Young Eco Reporters program, which will take place after Shanghai in Sarajevo in March 2020, with the presence of close to 40 representatives from all continents, is especially important." announced Jan Zlatan Kulenovic, Director of the Munja Incubator who runs the Eco-Schools program in BiH.
The International Eco-School Program has been in existence for 25 years and is the largest educational program in the world for youth empowerment in the field of environmental education. It is implemented in 68 countries and in 52,000 educational institutions.
"Ekopak was able to propose the MUNJA Social Innovation Incubator as a member of the FEE (Foundation for Environmental Education) network, and as time passes we see that we have not made a mistake in our selection. I would like to mention that Ekopak in cooperation with the Munja Incubator, in addition to the project "Eco-schools", implements the project "Young Eco-reporters". Both projects are done according to internationally accepted standards and rules, and we are pleased that the youngest population from our country has the opportunity to participate in them, "said Ekopak director Amela Hrbat.