WHERE

OTHERS

SEE

WASTE

WE

SEE

POTENTIAL

Ekopak is first and leading licensed packaging recovery organisation in Bosnia and Herzegovina

Ekopak is a pioneer in Bosnia and Herzegovina in the process of establishment and development of the packaging and packaging waste management system

Ekopak is founded by leading international, regional and local companies

Operations of Ekopak are based on best EU practices, but also on highest business standards which are in accordance with the standards of the shareholders

Ekopak takes responsibility for the fulfillment of legal obligations for producers, importers, distributors and retailers at the lowest sustainable cost and for the benefit of the entire community

Principle of Ekopak is equal treatment for all - the shareholders of Ekopak have neither special status

Employees of Ekopak perform their tasks fully professionally, responsibly, transparently and according to highest ethical standards which are in compliance with all legal requirements

Ekopak is 32. member of the PROEUROPE - European umbrella organisation for the packaging and packaging waste recovery systems, based in Brussels

Ekopak is authorised to assign an internationally trademark "Green dot" to companies that behave responsible towards their packaging waste on the market of Bosnia and Herzegovina

Any usage of the symbol on the market of Bosnia and Herzegovina without exclusive permission from Ekopak is violation of the current legislation

"Green Dot" on the packaging means that company who uses it fulfills its legal obligations through Ekopak, finances the establishment of system of separate collection and recycling of packaging waste in Bosnia and Herzegovina
News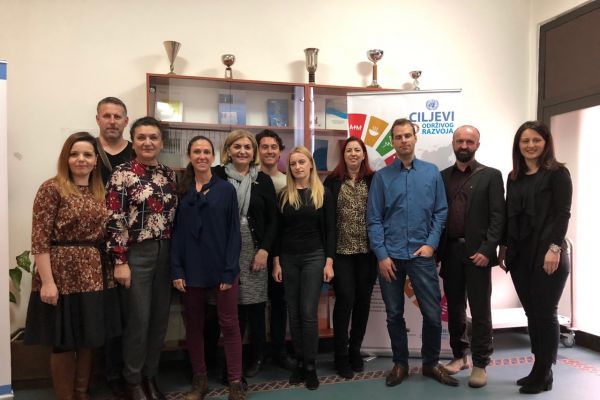 Statistics regarding placeing and recycling package material waste in segment of SDG indicator has been presented
In Sarajevo, the second ''National workshop concerning statistics of chemicals and waste'' has been presented. An aim was to give a support to a realization of sustainable development goals (SDG), building up conscious and improvement of national capacities for collecting documents regarding environment protection field. This was an occasion to talk about improvement of national capacities for collecting information, following trends and improvement towards 11.6.1, 12.4.4, 12.5.1 UN SDG indicators (Sustainable Development Goals)
Ekopak took an active role in workshop, and the director of Ekopak Amela Hrbat presented relevant information and methodology of calculation In SDG indicator's segment concerning package material that is placed and recycled on BiH market.
,, Every day business people in BiH are facing problems of missing information, or inability to get information from authorized institutions. Ekopak gave its contribution to workshops in SDG indicator's segment regarding package material, that is being placed on market, and amount of recycled package material in BiH,'' said the director of Ekopak Amela Hrbat.
The workshop has been organized by Agency for statistics in Bosnia and Herzegovina, and UN environment – United Nations Program, and participation took professionals from state Agency, entities' institutions for statistics, Ministries of foreign affairs and economics, Environment protection fund in BiH, ZEOS and Ekopak system operators.
Let's remind ourselves that Bosnia and Herzegovina is, by choice of the United Nations, one of few countries in the world whose methodology and indicators for four sustainable development goals concerning dangerous waste, communal waste, and recycling and food waste will be defined and tested. For this reason, a project ,,Chemicals and waste under sponsorship of UN Sustainable Development Program 2030: Building capacity for sustainable development goals and review in transitional countries,'' has started last year. The project will last until June 2019, and will be implemented by the Agency for statistics in BIH, as a carrier of the Project in BiH and UN Environment and UN-Habitat, in corporation with relevant Bosnian institutions and organizations.
Expected results of this project are that our country will create national report regarding chemicals and waste statistics. This report will serve for implementing support for sustainable development goals, define and test statistic's methodologies of indicators for following its realization.