WHERE

OTHERS

SEE

WASTE

WE

SEE

POTENTIAL

Ekopak is first and leading licensed packaging recovery organisation in Bosnia and Herzegovina

Ekopak is a pioneer in Bosnia and Herzegovina in the process of establishment and development of the packaging and packaging waste management system

Ekopak is founded by leading international, regional and local companies

Operations of Ekopak are based on best EU practices, but also on highest business standards which are in accordance with the standards of the shareholders

Ekopak takes responsibility for the fulfillment of legal obligations for producers, importers, distributors and retailers at the lowest sustainable cost and for the benefit of the entire community

Principle of Ekopak is equal treatment for all - the shareholders of Ekopak have neither special status

Employees of Ekopak perform their tasks fully professionally, responsibly, transparently and according to highest ethical standards which are in compliance with all legal requirements

Ekopak is 32. member of the PROEUROPE - European umbrella organisation for the packaging and packaging waste recovery systems, based in Brussels

Ekopak is authorised to assign an internationally trademark "Green dot" to companies that behave responsible towards their packaging waste on the market of Bosnia and Herzegovina

Any usage of the symbol on the market of Bosnia and Herzegovina without exclusive permission from Ekopak is violation of the current legislation

"Green Dot" on the packaging means that company who uses it fulfills its legal obligations through Ekopak, finances the establishment of system of separate collection and recycling of packaging waste in Bosnia and Herzegovina
News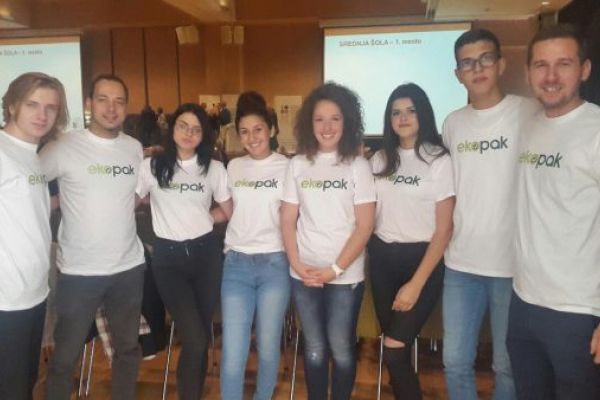 The winners of contest Young Eco Reporters in a study visit in Slovenia
The winners of the state competition "Young Eco Reporters", which was held in the spring of this year, went to a study visit in Slovenia. Thanks to EKOPAK, the first licensed packaging recovery organisation and the owner of the Green Dot license for Bosnia and Herezegovina, this international licensed program "Young Eco Reporters" was initiated for the first time in Bosnia and Herzegovina, and in competition participated 70 student artworks from 42 high schools.
Six winners from Bosnia were guests at the International Conference of the Program Coordinators of Eco School for 2017/2018, which was held at the Congress Center "Thermana" in Lasko, Slovenia. Representatives of Bosnia and Herzegovina are:
Pasko Bubalo, Gymnasium, Ljubuski
Amela Jahic, High School "Ismet Mujezinovic", Tuzla
Monika Kraljevic, High School, Kresevo
Amina Halilovic, Mixed High School Celic, Celic
Adi Glavinic, Gymnasium, Zivinice
Adna Hadzimuhamedovic, Gymnasium "Mustafa Novalic", Gradacac
The leader of the group from organisation Munja Incubator is Emir Kustur.
The Eco School Program is an international educational program about environmental protection, designed to promote and raise awareness of sustainable development among children and students through their educational program and active participation in the local community and beyond.
In addition, Jan Kulenovic, manager of Munja Incubator, together with the coordinators from Serbia, Croatia and Slovenia, took part in the round table where they discussed the topic of implementation of the Eco School and Young Eco Reporter program and possibilities of cooperation at the regional level.
On the second day was organized the visit to the School Center Celje for Mechanical Engineering, Mechatronics and Media, from where comes the winners of the Young Eco Repoters competition in Slovenia for the best video production.
In 2017/2018, Munja Incubator and its Hocu.ba info platform and EKOPAK will continue to implement the program Young Eco Reporters throughout Bosnia and Herzegovina.