WHERE

OTHERS

SEE

WASTE

WE

SEE

POTENTIAL

Ekopak is first and leading licensed packaging recovery organisation in Bosnia and Herzegovina

Ekopak is a pioneer in Bosnia and Herzegovina in the process of establishment and development of the packaging and packaging waste management system

Ekopak is founded by leading international, regional and local companies

Operations of Ekopak are based on best EU practices, but also on highest business standards which are in accordance with the standards of the shareholders

Ekopak takes responsibility for the fulfillment of legal obligations for producers, importers, distributors and retailers at the lowest sustainable cost and for the benefit of the entire community

Principle of Ekopak is equal treatment for all - the shareholders of Ekopak have neither special status

Employees of Ekopak perform their tasks fully professionally, responsibly, transparently and according to highest ethical standards which are in compliance with all legal requirements

Ekopak is 32. member of the PROEUROPE - European umbrella organisation for the packaging and packaging waste recovery systems, based in Brussels

Ekopak is authorised to assign an internationally trademark "Green dot" to companies that behave responsible towards their packaging waste on the market of Bosnia and Herzegovina

Any usage of the symbol on the market of Bosnia and Herzegovina without exclusive permission from Ekopak is violation of the current legislation

"Green Dot" on the packaging means that company who uses it fulfills its legal obligations through Ekopak, finances the establishment of system of separate collection and recycling of packaging waste in Bosnia and Herzegovina
News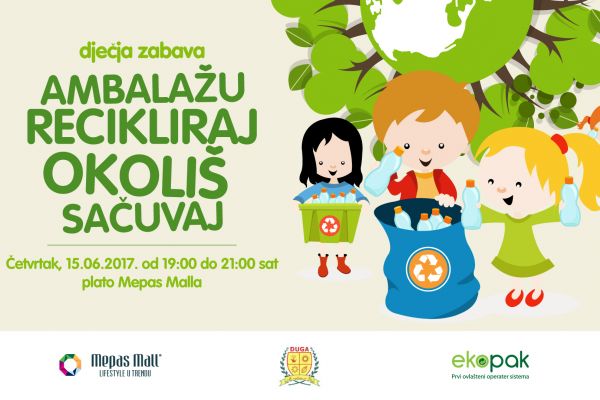 Event announcement: Children's party "Recycle Packaging, Save the Environment!"
Mostar, Thursday, June 15, 2017. from 19:00 to 21:00 in front of the Mepas Mall
Nature is a gift that we all have to keep! Let's raise together the awareness of the environment and work to beautify our environment. We will enable that your children through fun and creative workshops, learn how to protect the environment and nature around us. Spend time with your kids in a pleasant gathering in front of the Mepas Mall on Thursday, June 15, 2017, and from 19:00 be the part of a happy children's party "Recycle Packaging, Save the Environment"!
Ekopak - the first licensed packaging recovery organisation in Bosnia and Herzegovina, and Duga Ltd. Biograci - which is for many years engaged in the collection and disposal of secondary waste and the production of packaging, have prepared various workshops for all children. On a fun and educational way, kids will learn about the importance of protecting the beautiful nature that surrounds us, through play, laughter and fun characters.
The youngest will have the opportunity to enjoy a happy gathering with Maya Bee who knows best how to preserve nature. Together we will enjoy the game "Recycle and create the Earth Paradise" and theme themes through which we will find out what can be recycled. These interesting games are a perfect opportunity for us to do something nice for the nature that surrounds us, starting with our youngest. For all visitors we have prepared a handful of sweet prizes in which everyone will enjoy!
We invite all parents and kids to join us and have great fun! It is necessary to bring only good mood!