WHERE

OTHERS

SEE

WASTE

WE

SEE

POTENTIAL

Ekopak is first and leading licensed packaging recovery organisation in Bosnia and Herzegovina

Ekopak is a pioneer in Bosnia and Herzegovina in the process of establishment and development of the packaging and packaging waste management system

Ekopak is founded by leading international, regional and local companies

Operations of Ekopak are based on best EU practices, but also on highest business standards which are in accordance with the standards of the shareholders

Ekopak takes responsibility for the fulfillment of legal obligations for producers, importers, distributors and retailers at the lowest sustainable cost and for the benefit of the entire community

Principle of Ekopak is equal treatment for all - the shareholders of Ekopak have neither special status

Employees of Ekopak perform their tasks fully professionally, responsibly, transparently and according to highest ethical standards which are in compliance with all legal requirements

Ekopak is 32. member of the PROEUROPE - European umbrella organisation for the packaging and packaging waste recovery systems, based in Brussels

Ekopak is authorised to assign an internationally trademark "Green dot" to companies that behave responsible towards their packaging waste on the market of Bosnia and Herzegovina

Any usage of the symbol on the market of Bosnia and Herzegovina without exclusive permission from Ekopak is violation of the current legislation

"Green Dot" on the packaging means that company who uses it fulfills its legal obligations through Ekopak, finances the establishment of system of separate collection and recycling of packaging waste in Bosnia and Herzegovina
News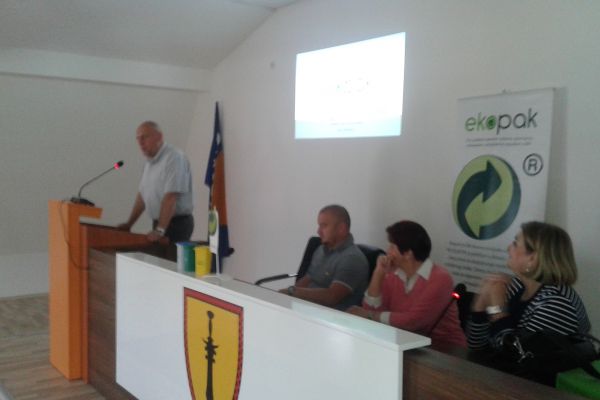 The synergy of the local community, educational institutions and Ekopak to improve System for the recycling of packaging waste in Vitez
Vitez, 23.05.2017. - Today the Municipality of Vitez organized a workshop on the theme: "Development of the primary selection of packaging waste from the solid waste". The workshop was organized for the teaching staff of schools in the Municipality, as they are an important chain in the environmental awareness education of the young.
The theme reigned great interest of the participants, which were able to hear and learn more about selective disposal of the packaging waste and the benefits of recycling. Representatives of Ekopak, manager Amela Hrbat and managing assistant Zoran Rifelj, presented the current practice of establishing Ekopak's System for packaging and packaging waste disposal, with particular reference to the Municipality of Vitez. Municipality of Vitez is in the system of Ekopak from 2014, and Ekopak invested funds for purchase of equipment, educational projects and covered other costs related to the recycling of packaging waste that is collected in this municipality. The workshop was attended by Ms. Enis Zisko, Assistant Chief of the General Affairs, Ms. Tanja Pejovic, communal inspector of the Municipality of Vitez, and Mayor Tomislav Bosnjak-Matic, who welcomed the meeting on opening speech and expressed his support to the idea of ​​selective disposal of packaging waste.
Also Mr. Igor Milicevic, manager in PUC Vitkom Ltd. and Ms.Zijada Isic, owner of Eco Industrial Waste "Zizi", presented the previous results of the successful cooperation in the Municipality of Vitez.
It is concluded that this interactive workshop was very useful and it contributes to development and improvement of System for the packaging and packaging waste disposal, thus shall be continued the synergy of the local community and Ekopak for improving the System.